Hot on the heels of the Patch Tuesday announcements yesterday (see blog or links to vulnerability assessment pages), came the announcement of a new zero-day in Internet Explorer (CVE-2010-0806).
Whilst checking through some URLs supposedly serving up malicious code to exploit this vulnerability, I noticed a link to some spam runs from earlier in the week. On March 8th SophosLabs saw spam messages attempting to trick the recipient into visiting rogue web pages. Messages used at least two social engineering tricks to lure victims into clicking the malicious link.
the tried and tested "delivery failed, please confirm address details" messages
request for details confirmation for insurance quote
Example messages are shown below.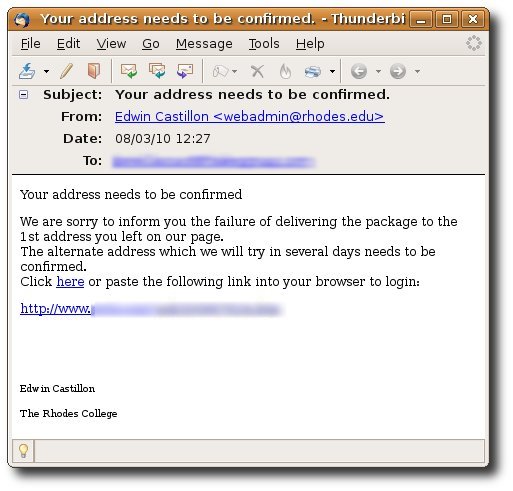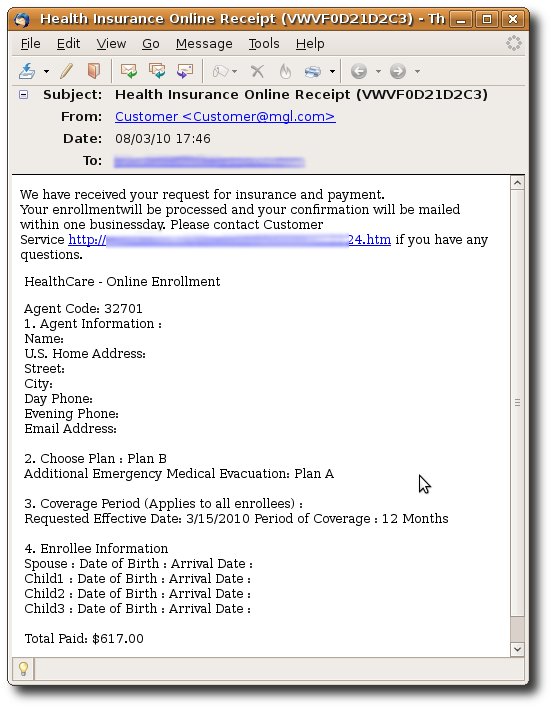 In either case, clicking on the link takes the victim to a web page which kickstarts the infection process.
Generic detection for the exploit scripts seen thus far has been added as Troj/ExpJS-R. A script used to query the browser/OS version before loading the exploit script (or redirecting to a games site) has been added as Troj/JSRedir-AW.
The malicious payloads installed in such attacks are liable to change of course, but the ones seen thus far have been either proactively detected as Mal/Dropper-Y, or added as Troj/Dloadr-CYS.
SophosLabs will continue monitoring for new attacks looking to exploit this vulnerability. In the interim, aside from keeping your protection up to date, take note of the following from the Microsoft announcement:
Our investigation has shown that the latest version of the browser, Internet Explorer 8, is not affected.
If you are an IE user and have not yet upgraded to version 8, take a hint! It is strongly recommended that you do so. Aside from not being affected from this particular issues, there are a whole bundle of other security related features you are missing out on otherwise.
The SophosLabs vulnerability assessment page for the IE 0-day vulnerability will be updated accordingly.