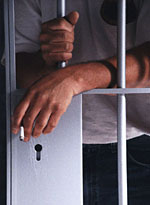 The author of a series of worms that launched a denial-of-service attack against the websites of an insurance company and an internet service provider has been sentenced to jail for two years and seven months.
44-year-old Arthur Boiko has been convicted by the jury at Harju County Court, Estonia, after pleading not guilty to creating malware that sought revenge against the IF insurance firm.
The Allaple family of malware, first seen in mid 2006, launched a crippling attack against the insurance company and Estonian ISP Starman, preventing innocent users from visiting them.
Boiko compounded his offence by creating a series of variants of Allaple, which can spread via network shares on poorly protected computers.
In addition to the prison sentence, Boiko has also been ordered to pay IF Insurance the equivalent of US $450,000 in damages. Meanwhile, Starman ISP is set to receive US $130,000 in compensation.
2.5 years in prison and $580,000 in damages sounds to me like a really good reason not to write malware. I wonder if Boiko would have been wiser to take his complaint with the insurance company on the chin (or to an ombudsman) rather than make life much worse for himself by writing and releasing malware?