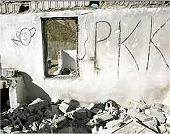 Authorities in Turkey have apprehended 23 people alleged to have been involved in hacking attacks on government websites.
According to media reports, the detainees are believed to be connected to the outlawed Kurdistan Workers Party (PKK), and were following instructions from PKK leaders to break into the websites of Turkish state institutions.
Five of the alleged hackers are said to be minors.
A report in the Hurriyet Daily News claims that the hackers were a member of a gang called the "Cold Attack Team".
In the mid 1980s, the PKK launched an armed struggle against the Turkish government, demanding an independent Kurdish state within the country.
In February 2009, I reported how a Kurdish hacker who admitted working for the PKK was alleged to have placed spyware on x-rated websites, which gathered sensitive information belonging to organisations connected with the Turkish army and intelligence agency. Authorities in Turkey were said at the time to be seeking a 10 year spell in jail for the man.
If charges are successfully brought against the 23 people apprehended this week by the Turkish authorities I don't think we can expect much in the way of leniency when it comes to sentencing.