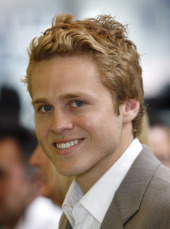 According to a report in glossy celeb gossip magazine "People", reality star Spencer Pratt is quitting TV to focus on fighting internet threats.
Spencer Pratt, who has carved a name for himself as 'the guy you-love-to-hate' in reality MTV show "The Hills", says that he has found a new purpose and passion in life while studying software engineering – with a focus on encryption – at the University of Southern California.
"Upon learning of President Obama's declaration that the 'cyber threat is one of the most serious economic and national security challenges we face as a nation,' I have decided to refocus my energy and devote my full resources to helping America face this and other unprecedented challenges," Pratt told People magazine.
Crumbs. That'll give the Koobface gang some sleepless nights I'm sure.
Pratt, who is married to fellow TV show airhead Heidi Montag, says that he is "saddened" to be leaving the (not really) reality TV show, but feels that he would not be doing his duty unless he assisted the USA "against these prevalent threats."
I can't quite get my head around this story. My cynical side tells me that perhaps Pratt is not going to film any more episodes of "The Hills" because he has been dropped, or that this is a publicity stunt and maybe we'll soon discover a TV station is making a reality TV show about information security.
But if his reasons are sincere, then who am I to pour cold water over his dream of working in the computer security business? However dumb we might appear in an edited TV show, it might be that he has something genuine to offer – to a lesser or greater extent – to help protect people and organisations online.