I have seen a lot of these lately. This one currently doing the rounds tries to dupe the reader into thinking that the International Monetary Fund (IMF) wants to use their accounts to transfer money meant for charity.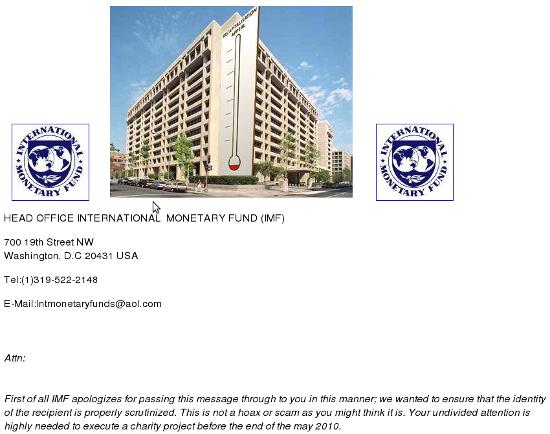 In the email. the IMF (supposedly) wants to transfer $10 Million into the reader's account using NatWest Bank. The contact details within the Bank are given as follows:
Name: Mr. Donald Miller (Co-founder)
Office Address: 11 El Shams Bldgs., 8th District Nasr City
E-mail: Bernisecharityfoundationimf 'at' gmail.com
Tel: (+44) 7031-939-750
Fax: (+44) 7011830323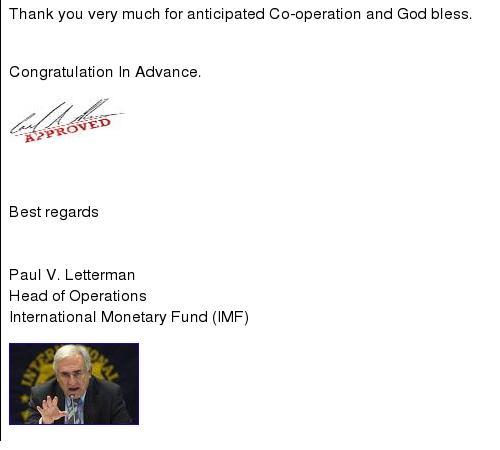 Some things to notice:
1. Fake e-mail addresses – Both the e-mail addresses mentioned in the message ( Intmonetaryfunds 'at' aol.com and Bernisecharityfoundationimf 'at' gmail.com ) are from common free e-mail service providers.
2. The letter is not addresed to anyone. Surely if the IMF wanted you to have their $10 Million, they would know your name?
Be very careful of such scams. They are on the rise and appear to be extremely enticing. Never ever divulge your personal details and simply delete such e-mails.