Two years ago I wrote about how someone had taken my photograph and posted offensive material on Facebook about a number of things including the British Army.
As a consequence some people believed I was to blame, and as well as my workplace receiving emails about me, it was implied that I was a paedophile, people threatened to burn down my house, and someone even issued a death threat against my wife.
You can read the gory details elsewhere on my blog, but what's new is that now someone has created a Fan Page on Facebook for me without my permission.
The person who I believe has broken the rules of Facebook to create this page is pretending to be the infamous (and now dead) British serial killer Fred West, as you can see in the following video:
(Enjoy this video? You can check out more on the SophosLabs YouTube channel and subscribe if you like)
Innocent people (friends, acquaintances, and folks who might follow this blog) are joining the Fan Page in the belief that they are somehow following me. They have no way of telling that I didn't create the fan page.
They may not realise that "Fred West" (who describes himself as "[loving] to potter about under people's patios – no job too small me old mukka" on his Facebook profile) appears to be responsible.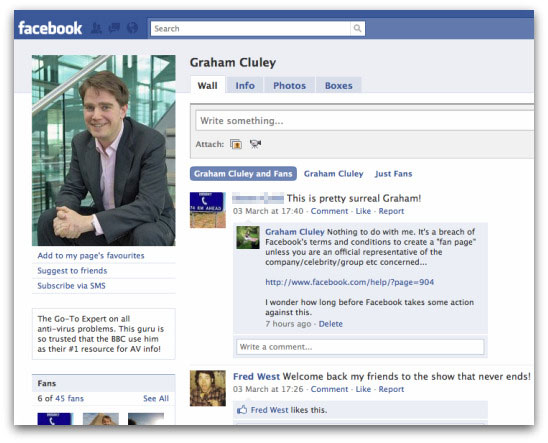 Publicly-available photographs of me are being uploaded to the fan page with amusing captions (possibly with the intention of making the Graham Cluley Facebook page look more authentic), as well as images of a woman in her underwear and characters from Star Wars with their heads replaced with those of Fred West and his equally murderous wife Rosemary.
Imagine if this were a fan page for a real celebrity like Johnny Depp or Sandra Bullock. An imposter could potentially gather hundreds of thousands of Facebook fans, before one day deciding to update them all with a malicious link or send them a dangerous scam.
Alternatively the victim of a fake Facebook fan page could have their character besmirched by someone choosing to post offensive or defamatory updates in their name.
That's why it's a breach of Facebook's rules to create a Fan Page unless you are an official representative of the company/celebrity/group etc concerned.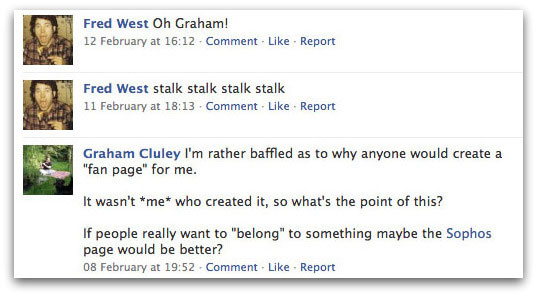 I reported the Fan Page to Facebook two weeks ago using the same standard procedure that any other user of the social network would follow. The Graham Cluley fan page is still up there at the time of writing.
So, what do I think Facebook should do about the problem of unauthorised fan pages? I believe it's time for Facebook to introduce a system whereby in order to create a fan page (on behalf of a company or celebrity or band) you need to prove that you are affiliated and authorised to do so.
It shouldn't be possible for me to create a Fan Page for Tom Cruise, but there should be a way to do it if I work for Tom Cruise or his authorised agents. That way members of the public can be more confident about becoming fans of organisations, pop groups and celebrities on Facebook.
PS. Don't forget to become a Fan of Sophos on Facebook. At least that page is legitimate. 🙂