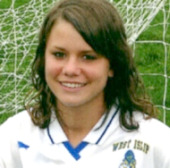 A 17-year-old girl who committed suicide on Sunday has had her name taken advantage of by hackers for financial gain.
Alexis Pilkington was a talented midfield soccer player who helped her team at West Islip Senior High School achieve victory at a Long Island, New York, championship last year.
According to some reports she was the victim of cyber-bullying on sites such as Facebook and Formspring.
Her father, 48-year-old Thomas Pilkington, who works for the NYPD, spoke to the press about his daughter's death in the hope that it would encourage other young people not to bully each other online: "I'm not hiding what happened in hopes it saves another kid," he said. "They don't understand how much suffering and pain this does to those that are left."
Unfortunately, raising the profile of his daughter's tragic death has also brought the story to the attention of sick hackers, who have exploited interest in Alexis Pilkington by automatically using blackhat SEO techniques to stuff webpages with content which claims to be related to the news.

Unfortunately clicking on such links can take your computer to a malicious webpage, designed to infect your PC with a fake anti-virus attack (also known as scareware or rogueware).
You should never forget – there are no depths to which cybercriminals are not prepared to stoop in their hunt for victims. The chilling truth is that they lose no sleep about exploiting the ghastly death of a teenage girl in their attempt to infect computers for the purposes of stealing money, resources and identities. Their automated systems jump on hot internet trends, exploiting them to their maximum potential – as they know that's what folks are searching for on the net.
Remember to be on your guard against such tactics – maybe it's time to get your news from legitimate news websites rather than any site which pops up in your search results?
A further method of protection is to be running a web security solution that scans webpages and links for malware/spam/phishiness. That way, even if you do click on them you'll be protected before you reach the bad stuff.