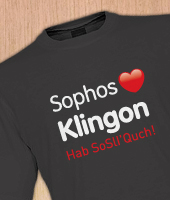 If you ran a security suite on your computer, what technologies would you turn on and which would you leave switched off?
Some of the folks at Sophos are intererested in discovering your opinion, and so we're running a very quick survey to find out what you think.
Sure, you probably would run anti-virus (doh!) but would you enable device control to set a policy about the usage of USB sticks? Would you run application control to block unauthorised games, P2P file-sharing and other non-business-related programs that you select from running?
There's only one way for us to find out:
Some of you may remember that last year we unleashed Klingon Anti-Virus on to an unsuspecting (and largely ambivalent) world.
The silver lining on the (now terminated) Sophos Anti-Virus in Klingon project is that we have some promotional T-Shirts still hanging around in the bottom of the filing cabinet. These T-Shirts are highly prized and very rare – but I have managed to secure one as a prize for the first person drawn out of the hat who completes the survey.
The T-Shirts say "Sophos [heart] Klingon" with the message "Hab SoSlI' Quch!" underneath. That last bit is the rudest thing you can say in Klingon – I'll let you Google it for yourself as it's very offensive.
(Enjoy this video? You can check out more on the SophosLabs YouTube channel and subscribe if you like)
So, please take the short survey and good luck! Or as they say in Klingon, Qapla'!