Nicole Richie has been exposed as the person behind a number of unusual tweets on Thursday from the Twitter accounts of reality TV star Kim Kardashian and her boyfriend Joel Madden.
No doubt the 3.2 million followers of Kim Kardashian's Twitter account were surprised to see some messages containing rather too much information:

Two of the messages read:
"Sometimes I think I am a lesbian because HOT DAMN I think Nicole Richie is fffooooiiinnneee!"
and
"Doll WHAT are you talking about its me Kim! I'm just not myself because I've had diarrhoea all day so I'm dehydrated."
Meanwhile, Nicole Riche had also broken into the Twitter account of her boyfriend Joel Madden, with whom she has two children, posting publc messages to the likes of Dolly Parton, Paula Abdul and Ricky Martin: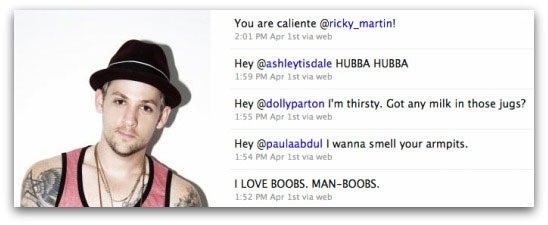 Once Kardashian realised what was going on, she posted a message on her blog, and informed her Twitter followers that her account had been hacked by Nicole Richie:

"OMG - Nicole Richie hacked my Twitter everyone!!!! That was hands down the funniest April Fools!!!"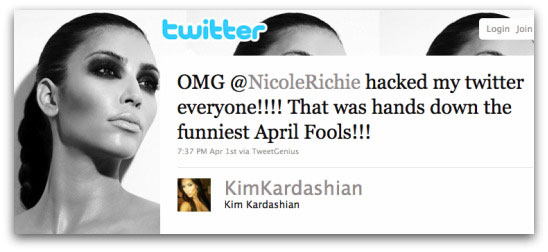 Kim Kardashian's sister Khloe has admitted she assisted Richie in the hack, by providing her sister's Twitter password in order to pull the stunt on April Fool's Day.
Fortunately, as far as we can tell, Kim Kardashian and Joel Madden, took Richie's hacking of their Twitter accounts in good humour. However, this high profile hack does underline a growing trend – especially amongst young people – to think it's okay to post bogus messages on their friends' Twitter accounts and Facebook status updates.
Indeed, the trick of posting embarrassing messages from your friends' social networking accounts without permission has become so commonplace that there is even a (somewhat distasteful) way to describe it on Facebook: being "fraped".
Nicole Richie is just doing what thousands of other young people do every day on social networks – but that isn't an excuse for being careless with your password, or the general security of your social networking account.