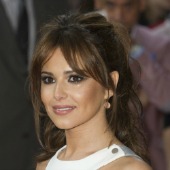 Have you been tempted to join a Facebook page recently which says it will show you exclusive images of celebrities like Cheryl Cole or Justin Bieber?
It wouldn't be a surprise if you (or your children) have been attracted to such content. After all, Cheryl Cole is the star of the girl band "Girls Aloud"a and a much-watched reality TV judge, and has won the hearts of the Britain (or at least its newspaper columnists) following her much publicised break-up from footballer husband Ashley Cole.
Justin Bieber, meanwhile, is a 16 year old Canadian pop phenomenon – who appears to be inducing something akin to Beatlemania in any girl under the age of 12.
Despite their fame, however, I would suggest that anyone think twice before diving in to join Facebook groups claiming to contain salacious content regarding them.
Just as with the offers of a free iPad I warned about last month, scammers are continuing to use attractive content designed to lure unsuspecting Facebook users into handing over personal information.
The following YouTube video explains more:
(Enjoy this video? You can check out more on the SophosLabs YouTube channel and subscribe if you like)
My guess is that the scammers behind these pages are skimming commission every time that they redirect a user to one of the surveys, but by recruiting thousands of people to a Facebook page they could also use the membership lists for spam and other scams.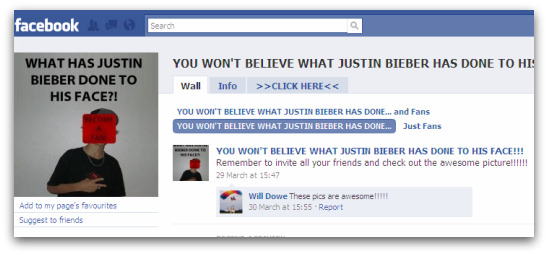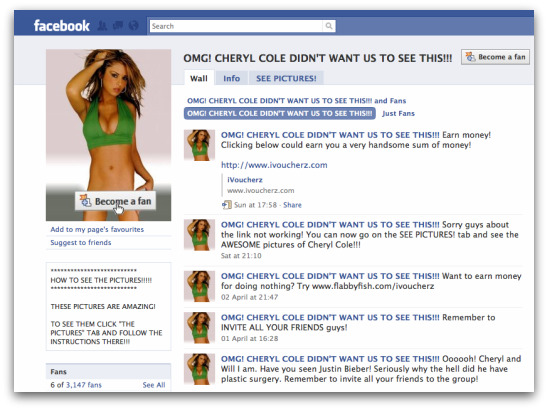 Ask yourself this, do you really want to be tricked in this fashion into handing over your personal data? And do you really want to hear the wrath of your online friends when they receive a useless page invitation like this?
Make sure that you keep yourself informed about the latest security news and internet threats, by becoming a Fan of Sophos on Facebook. At least that page is legitimate. 🙂
Hat tip: Thanks to Clu-blog reader Matty for informing me about the Cheryl Cole scam pages.
Image of Cheryl Cole courtesy of Featureflash / Shutterstock.com.