Don't panic! Facebook isn't about to start charging you a monthly fee to use Facebook from July 9th 2010, but there's undoubtedly some scammers who would like you to believe that that's true.
Yesterday I received an update from one of my Facebook friends, informing me that she had joined a group called:
NO, I WILL NOT PAY £3.99 A MONTH TO USE FACE BOOK FROM JULY 9TH 2010......

The creator of the Facebook group says that the social networking site has announced plans to start charging £3.99 a month to all users from 9th July 2010. Allegedly, "Facebook has confirmed that if they get over 1,000,0 (sic) people against the idea to charge £3.99 a month they will reconsider"
What poppycock.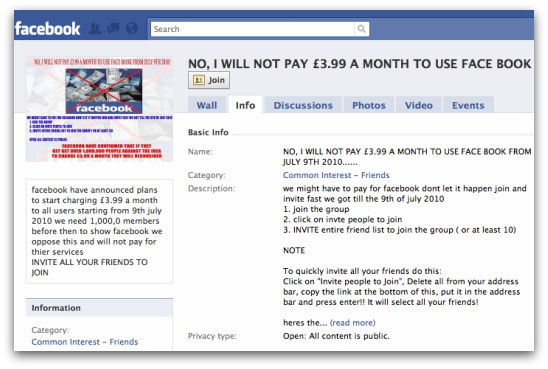 The truth is that Facebook has no plans to charge for access to its site (which will surely come as a big relief to its 400+ million fans), and that the group has been created in the hope that members will invite was many other people to join as possible.
The Facebook group could have been created as a prank, but my guess is that it's more likely that whoever is behind it (and many other similar groups and pages) are hoping to add as many members as possible in the hope of spamming and scamming them in future.
The group already has over 189,000 members at the time of writing – so clearly there are a good number of people falling for its warning.
You should always think carefully before deciding whether its wise to join a Facebook group or page – let alone inviting all your friends to do the same.
If you want to keep yourself informed about the latest security news and internet threats, why not become a Fan of Sophos on Facebook. At least that page is legitimate. 🙂