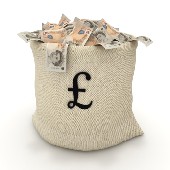 If you run a business in the UK then there's even more reason, from today, to keep a close eye on the records you store about your customers.
The Information Commissioner's Office (ICO) has been granted new powers by the British Government that could see companies being fined up to £500,000 for breaching the Data Protection Act.
The £500,000 fine is a jaw-dropping 100 times higher than previous maximum penalties (Prior to today, Magistrates Courts could impose a £5000 fine under section 55 of the Data Protection Act), and comes in the wake of a series of high profile incidents where organisations have been careless about properly securing the personal identifiable data of individuals.
Of course, fines are likely to be decided in proportion to the size of the loss and the revenue of the organisation involved. However, it's a sign of how data losses and slip-ups are regarded by the authorities with increasing seriousness that this change has come about.
Stewart Room, a partner at law firm Field Fisher Waterhouse, believes that the first organisations to be hit by the fines will not only get hurt in the pocket, but will also have damage done to their reputation.
"This is about naming and shaming and will be big news when it happens. The consequences are likely to include the sacking of scapegoats, who will be hung out to dry," Room told ComputerWeekly at the end of last month.
More information can be found on the ICO's website, where it has published more information on the Data Protection Act.
In addition, Sophos has a number of data protection solutions that can help reduce the risks of your company being the one making the headlines.