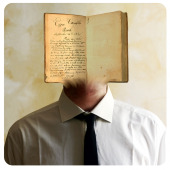 Controversial proposals by Facebook to change its privacy policy have been slammed by users, according to poll results released today.
At the end of March, Facebook proposed a change to its privacy policy which, amongst other things, would make it possible for it to share your information automatically with "pre-approved" websites.
As I explained at the time, this would mean that might visit a website and discover that it already knows who you are, your date of birth, where you live, who your friends are. All, without ever having given the site explicit permission to access that data.
Even though Facebook says that only a small number of pre-approved sites will be offered this feature and that users would be able to "opt-out", an overwhelming 95% of the 680 people polled on this blog declared that they thought Facebook's privacy changes were "a bad thing":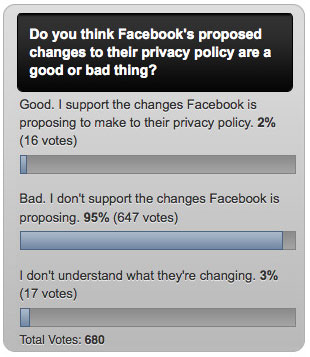 Only 2%, 16 of those polled, said that they supported the change. As an aside, it tickled me that some of those votes approving Facebook's privacy policy came from an IP address at Facebook.com. (Which was fine, after all there was nothing saying that Facebook employees couldn't vote).
Yesterday, following a backlash of criticism about the new policy, Facebook published a response, attempting to justify its position, and underlining that it would only offer the data to "carefully selected partners", and that such partners would be "required to provide an easy and prominent method" for users to opt out directly from their websites and delete your personal data.
Personally, I still think it stinks.
Most users still don't know how to set their Facebook privacy options safely, finding the whole system confusing. The onus should not be on Facebook users having to "opt-out" of this new feature, but instead on users having to "opt-in".
Once again, it feels like online privacy is being eroded by stealth. Too many websites are chipping away at their members' privacy and security, potentially exposing their personal data to third parties that were never in the equation when they first signed-up for the service.
If you are on Facebook and want to keep yourself informed about the latest news from the world of internet security and privacy you could do a lot worse than become a Fan of Sophos on Facebook.
* Image source: Max-B's Flickr photostream (Creative Commons)