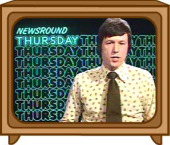 If you're like me, British and of a certain age, then chances are that you have a very special place in your heart for a BBC TV news show called "Newsround".
Newsround, which has been on the air continuously since 1972, was one of the world's first news programmes aimed specifically at children. In its original form it was known as "John Craven's Newsround", and was mostly presented by the legendary Craven until 1989.
There's no easier way to put this, so I'll come straight out with it. John Craven is a legend. To chaps like me he ranks right up there alongside Johnny Ball, Brian Cant and the mighty John Noakes as one of the titans of British children's television in the 1970s.
If England had adopted television as its national sport rather than football, BBC children's presenters would have made up a team that would have been world beaters for more than twenty years.
And so it was impossible to turn down the call I received from Kitty, one of Newsround's production team, asking if I could come to the studio to talk about young children accessing Facebook. The thought of missing being a tiny part of Newsround history was unthinkable.
Kitty emails me: "If possible, could you dress down? Sounds a bizarre request, but suits and ties tend to turn kids off a bit. If you're coming in a suit though, that's absolutely fine! We may just ask you to take off the tie and jacket if that's OK."
I explain that I'm not really a suit-and-tie kind of guy, so that's not going to be a problem. If they have one of John Craven's old jumpers lying around in the wardrobe though, I wouldn't say no.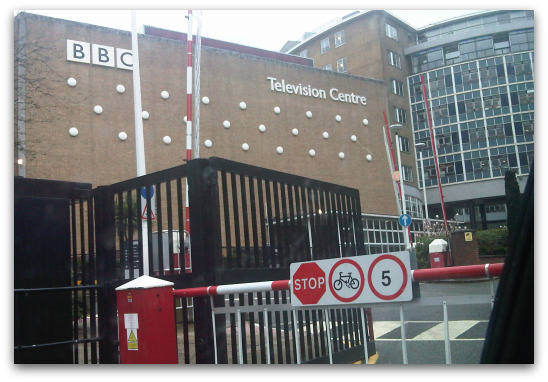 John Craven hasn't hosted the show for more than twenty years, and there's a new younger team in place who meet me at BBC TV Centre in London.
Before I had time to put down my laptop, I was whisked into make-up with presenters Ore Oduba and Sonali Shah. It was about twenty minutes before the show was scheduled to go live on BBC One and Sonali wanted to ask me some questions about social networks.
Sonali and Ore are truly professional, making you feel comfortable, and explaining that there will be a quick five minute rehearsal just before the cameras roll. It's fascinating to sit on the sidelines and watch the professionals at work, as autocues are adjusted, cameras wheel around, and you're wired up for sound and told where you'll be sitting on the sofa.
And, of course, there's so much you want to explain to the under-12s who are watching about the dangers that can come with social networking, how predators can lurk online, how links they can click on can lead to malware, spam or phishing attacks – but you only have about 30 seconds and can't make it too complicated.
Suddenly one of the production team calls out "45 seconds!", meaning we're about to go on air. I wait on the wings, as the Newsround theme tune starts up and Sonali and Ore introduce the show. As a pre-recorded segment is shown about social networks I skip onto the sofa beside them.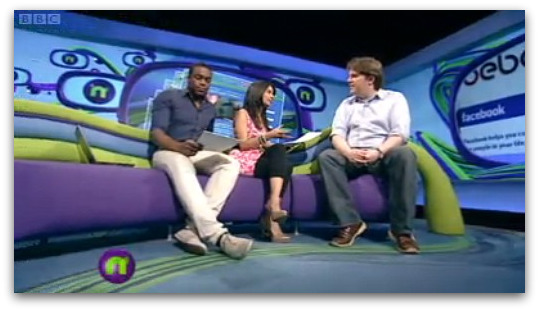 Watch the show via BBC iPlayer.
And in a flash it's all over – my segment is finished and I wait for the VT about Manchester United to start playing so I can sneak off the sofa and into the shadows. My moment of Newsround fame was short but sweet, and without any major hiccups. Phew.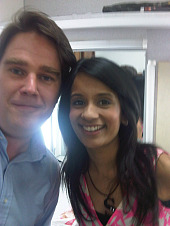 Within another five minutes or so the show is over. They're impressed that I managed to crowbar references to both "Doctor Who" and Justin Bieber" into my answers, as those seem to be popular topics amongst Newsround's viewers, and Sonali and I struggle to take a decent picture of ourselves on my rather battered BlackBerry.
(Trust me, this was the best photo of the bunch – neither of us seemed to be able to keep still at the crucial moment).
And I catch the train home a contented man. I don't care that my appearance isn't going to sell any Sophos software to Newsround's audience of pre-teen kids. They're hardly our target market. All that matters is one thing. For the rest of my life I can say that I've been on BBC Newsround.
And that's cool.