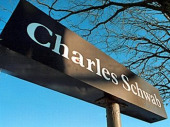 The Department of Justice has announced that a man has been jailed for 37 months after being found guilty of hacking into stock market investment accounts at the Charles Schwab online brokerage, and stealing over $246,000.
Between September 2006 to December 2007, Manhattan-based Aleksey Volynskiy was part of a gang that infected US consumers with keylogging Trojan horses allowing them to steal users' login usernames and passwords.
Using information stolen through these spyware attacks, Volynskiy and Alexander Bobnev of Volgograd in Russia, were able to break into Charles Schwab customer trading accounts, make unauthorised sales of security and wire money to other accounts.
Ultimately a proportion of the money would end up with co-conspirators based in Russia.
Alexey Mineev, another member of the gang, from Hampton, New Hampshire, was sent to prison for 18 months last November. Meanwhile, Alexander Bobnev, who allegedly masterminded the operation, remains at large.
This isn't the first time that we've discussed the issue of hackers breaking into brokerage accounts. In September 2008, the Clu-blog reported on the case of Thirugnanam Ramanathan, who hacked into stock market investment accounts held with online brokerages such as TD Ameritrade, Fidelity, and E*Trade in an attempt to manipulate stock prices.
Cases like these underline the need for online traders to be just as careful with their computer security as online bankers. Everyone – be they a large firm or an individual investor – has a responsibility to properly secure their computer systems to prevent hackers like this making a quick profit.