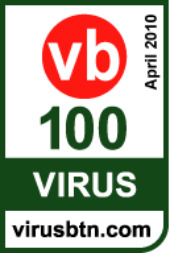 The April edition of Virus Bulletin has just been published, including the largest ever comparative review in the magazine's 21 year history.
A total of 60 anti-virus products running on the Windows XP platform were put to the test, producing an exhaustive 45 page report examining the detection abilities of different security solutions.
Virus Bulletin awarded Sophos Endpoint Security and Control the prestigious VB100 award for detecting all the in-the-wild viruses without false alarming, describing its detection rates as "solid and assured", and also found that Sophos achieved a perfect 100% score against polymorphic malware. Sophos outperformed a number of other products which failed to detect 100% of the viruses in the wild.
Furthermore, Sophos received "excellent scores" in Virus Bulletin's proactive tests, which help users form a better impression of the heuristic and generic proactive detection capability of security software.
This is the 51st time Sophos has won the VB100 award from the independent testers at Virus Bulletin for its protection capabilities. You can find full details of the review in the April 2010 edition of Virus Bulletin magazine (Sorry, I think you have to be a VB subscriber to read the full report, but a summary can be read here).