It's quite a busy month for Sophos. I am writing this from Berlin, Germany attending Sophos's annual sales conference. The weather hasn't been great, but as always it is good to see so many colleagues from around the world and learn from their experiences.
Sophos is a sponsor at this years Source Boston security conference. Many of our staff including members of SophosLabs will be attending April 21 to 23. We will have hard-copies of the paper we recently published "Poisoned search results: How hackers have automated search engine poisoning attacks to distribute malware" on hand as well.
I had an opportunity to sit down with one of our researchers who helped write the paper, Onur Komili. I recorded a short interview with Onur about the changes he has observed in how crooks are manipulating search results.
Download and listen to "Sit down with Onur Komili about automated SEO poisoning"
If you enjoy this podcast you can download many more via iTunes or directly from our website.
We are always appreciative of feedback on our podcasts, and if you would like to share your 2 cents with us, drop me a line at chesterw [at] sophos.com.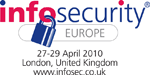 Another big event for Sophos this month is InfoSec Europe. Quite a few of the Sophos UK crew will join Paul Ducklin, Graham Cluley, and I at booth G50. The three of us, plus some guest speakers, will be competing for your applause and adoration at the stand delivering content-packed presentations about the latest threats you should care about.