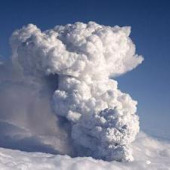 I'm writing to you from the bar of the Maritim Hotel in Berlin, where hundreds of Sophos staff are currently stranded because of the eruption of an Icelandic volcano.
Airflights across North Europe are suspended because of the volcanic ash, which could damage plane engines. And wouldn't you know it? Almost 600 Sophos sales people, sales engineers and a few hangers-on (like me) just happened to have been spending a few days near the Potsdamer Platz in Berlin attending Sophos's annual global sales kick-off.
The conference finished on Thursday afternoon, with many expecting to fly back to the UK – or begin their journeys back to the USA, Australia, Japan and other places – that night.
Instead, hundreds of us are cooped up in the (not entirely unpleasant) Maritim Hotel bar, enjoying the delights of Berlin for an indeterminate number of days.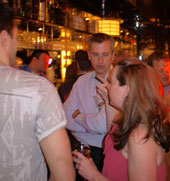 As the first news of the massive flight disruption unfolded, some resourceful Sophos employees commandeered rickshaws and people carriers and set off on roadtrips. I have heard of one group which made it all the way to Orly airport in Paris (trust me, that's quite a way from Berlin), only to find that that too was closed. They were last heard of heading for the ferries at Calais.
Although their nimble partial escape must be admired, it's not a route that can be easily taken by other Sophos staffers – reports indicate that Berlin has now run out of rental cars.
And even if you do make it to Calais, the Channel tunnel doesn't seem to be an option either, with rumours that EuroStar is booked up to the gills.
But there are still some of us stranded in Berlin. Everyone has a story to tell of why they need to get home.
So, if you have any ideas on how we can recreate the Berlin Airlift and extricate hundreds of Sophos salesdroids (and myself) from Berlin without exposing us to danger in the clouds, please let me know.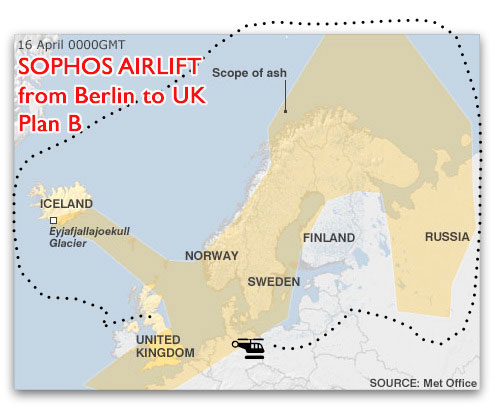 All ideas (and offers of coaches, helicopters or hot air balloons) welcome.

Update Friday, 03:30 CET: One question for all of you who have suggested that we catch a train from Berlin to London (presumably using the Channel Tunnel) – do you actually have a train you can lend us? If not, please stop suggesting this. 🙂
You see, every other Brit stranded in Europe had the same idea as you, and Chunnel tickets are consequently non-existent. Yes, we could get to Calais, jump on a ferry to Dover (at least one person is planning a variant of this, travelling to Hook in Holland, and catching a boat to Harwich), then magic up a fleet of taxis or hitch-hike our way back to Oxford.
Maybe it will come to this, but the ferry option sounds tortuous to me. I'll keep you posted.

Update Friday, 03:34 CET: We have chosen the Twitter hashtag #sophosairlift.

Update Friday, 08:00 CET: Deborah (who you may remember from our sexist Valentine video), Amy and others have been busy co-ordinating our plans from the hotel bar to escape Berlin.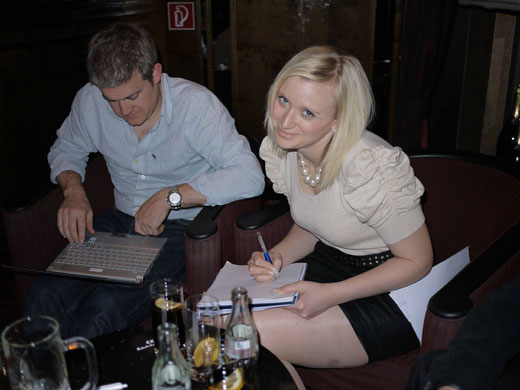 Unfortunately, as you can see from the email Deborah sent while most of us were tucked up in our hotel beds, it looks like even the cross-channel ferry option is no longer a runner. Time for Clu-blog fans to demonstrate the true Dunkirk spirit, and create a flotilla of tiny boats to rescue us perhaps?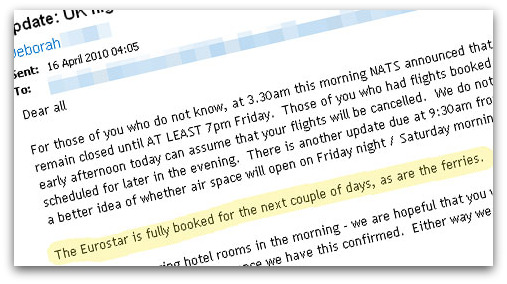 Update Friday, 10:30 CET: Hey, check out what appears on the first page of results if you Google for "Berlin to Calais":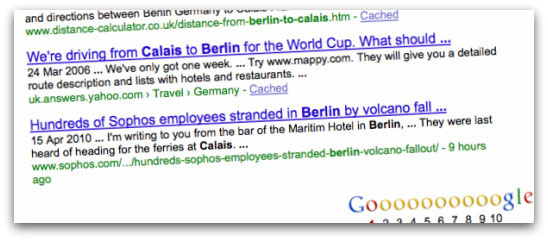 By the way, although many of our sales people are stuck in Berlin, our support staff and lab analysts are working as normal. We're just pointing that out in case the guys from Kaspersky think now would be a good time to pop round to our offices and pinch our computers.

Update Friday, 11:15 CET: Minor riot in hotel as (inaccurate) rumours spread that the bar has run out of peanuts.

Update Friday, 11:42 CET: Some good news. It doesn't look like many of us will be able to get out until Sunday, but the negotiating skills of Deborah, Amy and others have convinced EuroStar to give us over 60 tickets from Brussels to London.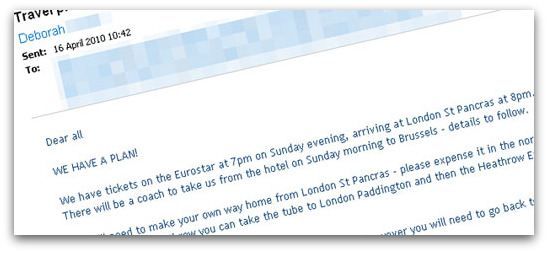 The team are now working hard at organising coaches to get folks from Berlin to Brussels. This plan won't help everyone exodus from Berlin – but it's a start.
I'm sitting in the lobby at the Hotel Maritim, which means I've been able to see scores of groups planning their escape. One group just told me that they're catching a train at 5am tomorrow morning, and will then finally make 4 or 5 changes before ultimately arriving in Sweden.
I also spoke to some guys from our American office who planned to get to Zurich, Switzerland to fly back to Boston. Personally I'm doubtful that that's going to work – but we'll see.

Update Friday, 13:09 CET: The one thing you can rely upon from Sophos staff is a real camaraderie in a time of crisis. We look out for each other, we don't leave others in the lurch.
Here's an email I just got from Jason Clark, from our international sales team:
Hi Graham,

Just read your blog and thought you should hear of the intrepid NEMEAI-UK team's efforts to get home...

As soon as we heard the news, and the unpredictability of the movement of ash we opted for the Chunnel. It took 4 of us over an hour (on web, and on hold) to get through to a lovely lady at Eurostar who managed to find all 9 of us tickets for a train leaving Brussels 20:30 Friday.

Next we dispatched 2 team members off to Berlin train station to get tickets for Berlin to Brussels. It was a struggle but we managed to find a train with enough seats that would get us to Brussels in time for the Eurostar leg of our journey.

It took us 4hrs to organise everything but we're on our way home.

We reckon we will be the first team from the conference to get back to Blighty and have named our adventure "The Great Escape"

I challenge anyone from the UK office to get back to the UK before us (estimated time of arrival: Friday 16th @ 21:30 (BST)
Hmm.. did anyone mention rats jumping from a sinking ship? 🙂 Well done to Jason and his colleagues – somehow I think they're going to beat the rest of us back to HQ.

Update Friday, 16:35 CET: Sophos's Rich Baldry tweets "Conditions dire. Will we escape this hotel hellhole?":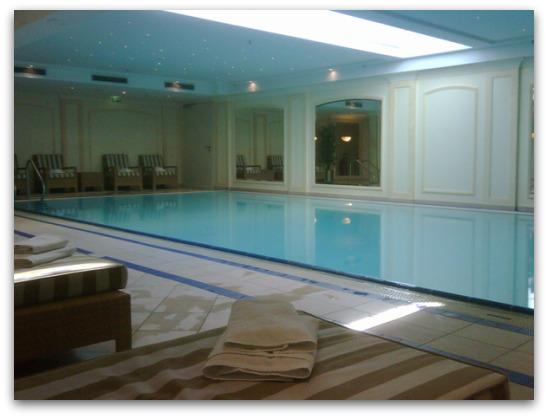 Update Friday, 23:04 CET: Lets not imagine that it's just the people stranded in a foreign country that are suffering; their families back at home are suffering too. Here's an email I received from Tracey, a Berlin conference widow:
Dear Graham,

I've been reading with great interest your blog on the massive Sophos stranding. It has brought the tiniest bit of humor to an otherwise LONG-ASS week waiting for my husband, who is on the Boston team to come home. While you all might be stuck in Berlin, with its beer, bars and history- I have been stuck home alone 24/7 with an 8 month old, who quite frankly became bored of me on Tuesday, and is now merely tolerating my presence and making sure i'm well aware that her tolerance is on it's last legs.

I hope the ash passes and you'll all be on your way back to where ever you came from soon. Safe home!

Tracey O'Neill
Conference Widow- Boston

Update Saturday, 12:20 CET: I've escaped Berlin! I'm on a train to Cologne with my colleague Carole Theriault. Our plan is to catch a train tomorrow from Cologne to Brussels, which will then take us – courtesy of EuroStar – to London.
Fingers crossed. A day stuck in Cologne isn't so bad, especially as we can drop in on Szusza, Carole's best friend from her university days.
The German ICE (Inter City Express) train is so much better than any other British equivalent. Quiet, comfortable, fast (it goes at over 200 km/hr). This is the way to travel – what could go wrong now?

Update Saturday, 16:35 CET: I have checked into a hotel in Cologne, close to the cathedral. The Hotel Domstern is very comfortable, but I do wish they had been able to get me a more orange room.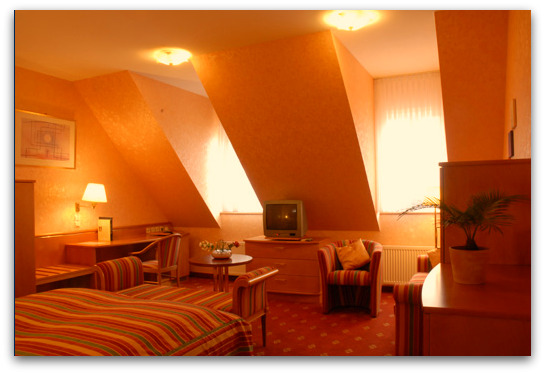 Update Saturday, 00:30 CET: Rich Baldry has managed to drag himself away from the hotel swimming pool to catch a train shortly after midnight to the Hook of Holland. His plan? To jump on a ferry to Harwich in the UK.
However, his plans to sleep overnight on the train do not go entirely uninterrupted.

Update Saturday, 00:50 CET: It appears that the bragging from Jason Clark and the international sales team may have been premature, as word has reached me that another group arrived back in the UK hours before them.
Ric Singleton, Jill Murray, Roger Neal, and Andy Last seem to have won the award for "first back to Blighty" after arriving on British soil at 10am BST on Friday. Their escape involved flying from Berlin to Paris (just minutes before Orly airport shut).
Unfortunately there were no cars to be hired, no trains available and no hotel rooms to be had, so they comandeered a taxi to take them to Lille, arriving at 01:00 CET on Friday.
A problem remained however – EuroStar and the cross-channel ferries weren't taking any foot passengers, so the group hired a car to get themselves onto the EuroTunnel. This initiative brought them back to Britain almost twelve hours before International Sales.
A separate small group (Phillip Walley, Alistair McQuade and Jackie Groves) have also successfully escaped from the continent. Here's how Phillip told the story:
We arrived in back in Blighty at 22:50 on the Friday night and home safe and sound by around 01.30am (UK time). We set off from Berlin Hauptbanhoff at 08:32 CET making a total travel time, door to door, of 18 hours - Impressive I'd say! Morale was extremely good all the way as you'd expect from Sophos.

We may not have been the first back, but I suspect we are the fastest flightless travellers from Berlin to UK!

Alistair McQuade's tireless efforts on internet and phone for the best part of two days made this possible, so thanks very much to him for that.
A valiant attempt – but it appears that Ric, Jill, Roger and Andy were still the first to return to British shores.

Update Saturday, 21:15 CET: Rich Baldry, whose ferry arrived in Harwich at 20:00 BST, takes this photo of the volcanic sunset over the Stour at Harwich. He says it's the first real visible sign he has seen of the volcanic eruption.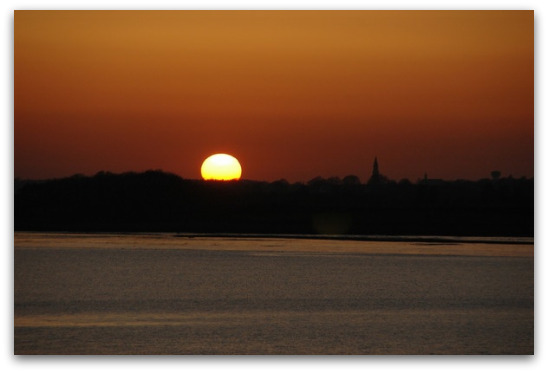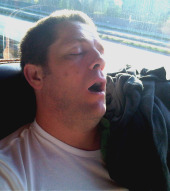 Update Sunday, 04:00 CET: A double-decker coach leaves the Maritim hotel in Berlin in the dead of the night, filled to the brim with UK staff from Sophos.
One person relieved to board is account manager Nicola Gingell, who had had her passport and keys stolen in Berlin just hours before. Kudos to colleague Ollie Hart, Sophos's HR department, the German police and others at Sophos for helping Nicola get the necessary emergency paperwork to leave the country. (The back-up plan had been to hide her in Tony Caracciolo's enormous suitcase)
A rule quickly emerges – "naughty boys upstairs, at the back".
Although legends and rumours are beginning to emerge of what happened in the ten hour trip ahead of them to Brussels (where they hope to catch the EuroStar) they probably aren't suitable for telling on this blog.

Update Sunday, 16:20 CET: Carole Theriault and I have waved goodbye to the beautiful sunny town of Cologne, and are onboard a train bound for Brussels. There's only one problem though – even though we've spent a small fortune, we don't appear to have a legitimate ticket!
Read this whinge to find out more about how we ended up in this situation, and why we're highly miffed with EuroStar.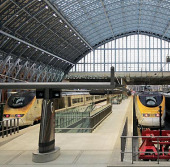 Update Sunday, 21:20 CET: It's shortly after 8pm in the UK, and almost 80 Sophos staff members (including me!) have made it via EuroStar from Brussels to St Pancras in London. It's been a long journey, but we've made it.
Our celebrations are only dampened by the thoughts of those who are still stranded. Not everyone could get onboard the train in Brussels, and some nobly gave up their seats to stay an extra night on the continent.
Meanwhile, some of our colleagues who are even further from home (for instance, those who travelled to Berlin from the USA, Asia Pac or Australia) aren't home yet. Word has it that the Americans may have gone to Frankfurt (where Sophos has an office), while they await a flight home.
Meanwhile the Australian contingent have organised a technical training day, stuck as they still are at the Berlin hotel and are hoping to watch the movie "The Great Escape" for entertainment tonight. They had planned to travel to Rome airport, before they heard it was shut. The situation for them is pretty bad, as it appears none of the Australian airlines are prepared to fly anything over to anywhere ine Europe until the skies begin to clear up.

Update Tuesday, 21:30 CET: I can exclusively reveal that we have hired a Boeing 737 to fly our American, Australian and Asia Pac staff out of Europe.
Let's hope they can get to the airport in time..