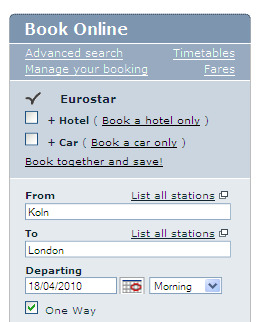 This has nothing to do with computer security – but I wanted to let off some steam about EuroStar.
Like hundreds of thousands of others I have been stranded for the last few days in Europe, trying to get back from a Sophos event in Berlin. You can read the whole story about what happened, and the different ways in which my colleagues are trying to return to their homes, on my blog.
A colleague and I decided that we would see if we could book a EuroStar ticket to take us under the English channel, and back to London St Pancras. Checking out the EuroStar website we found it was possible to book a ticket all the way from Köln (or Koeln or Cologne, if you prefer) to Brussels, and then through to London.
So we filled in the form, baulked at the price (over 350 Euros each – clearly someone is profiting from the Icelandic volcano fall-out), took a deep breath and ordered our tickets.
In response you get an email with a booking reference number, and you are told to take this booking reference number to the station where you can pick up the ticket proper.
Let's recap.
I'm going to travel from Cologne to Brussels to London. I have ordered a ticket to do precisely that from EuroStar's website. All I need to do is pick up the ticket and jump on the train.
Sounds simple doesn't it?
Hmmph. If only.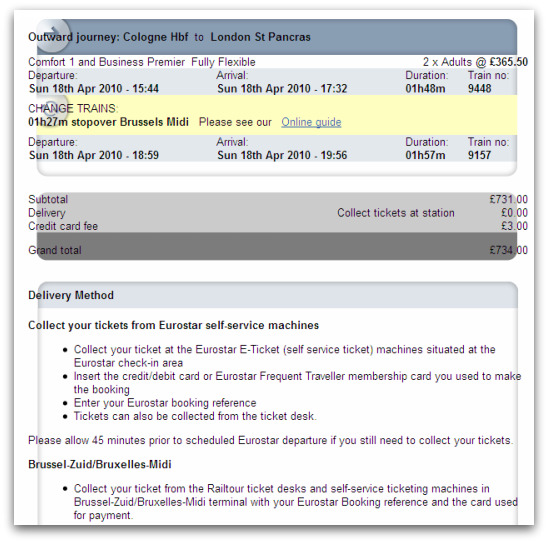 Do you see the bit about picking up your ticket at the EuroStar e-ticket machine? Well, there isn't one in Cologne station. In fact, there's no EuroStar representation there at all. So we didn't have a ticket.
With our train about to depart we leapt into a Starbucks and abused their Wi-fi service to log into EuroStar's website again (they weren't answering phone calls) to see if we could print off a ticket. No joy.
Well, we decided to brave the authorities and leapt on the train to Brussels with just our booking reference number, and no ticket. We also had no seat numbers for this leg of the journey (so much for Comfort 1 / Business Premier..) so we made do with a couple of jump seats above a teetering tower of suitcases and luggage.
Inevitably a ticket collector came across us, despite our attempts to look inconspicuous. She looked at our booking reference number and shook her head. She called over a colleague, who shook her head as well.
"This is no good," she said. "We need your ticket".
"Umm.. we couldn't pick up a ticket at Cologne."
"Yes," she replied. "You need to pick it up at EuroStar in Brussels."
"Well, that's where I'm going – I'll get it there then," I offered.
"No, you need a ticket now. Do you have money or a credit card on you?"
"But this is crazy," I said. "We've paid a small fortune already for this journey. It's not our fault that we can't pick up the ticket at Cologne."
"You'll have to ask for a refund from EuroStar. It's not our fault."
Carole then asked the ticket collector the key question:
"Does this happen often?"
"Oh yes.. all the time," said the ticket collector, as she took another 170 Euros off us, and left.
We weren't able to get a refund from EuroStar in Brussels (who say we need to contact their London office by post).
EuroStar should be embarrassed that their website allows customers to be let down in this way. It certainly left a bad taste in our mouths at the end of what was a long journey home.