Facebook has been rated lower than its social networking competitors Twitter and MySpace for privacy and security, according to a study from Stanford University.
According to a report in Forbes, the WhatApp website has rated the security and privacy of Facebook as being lower than that of the Apple iPhone, Twitter and MySpace.
| Service | Privacy | Security |
| --- | --- | --- |
| Facebook | 2/5 | 2/5 |
| Twitter | 3/5 | 3/5 |
| MySpace | 3/5 | 3/5 |
| iPhone | 3/5 | 3/5 |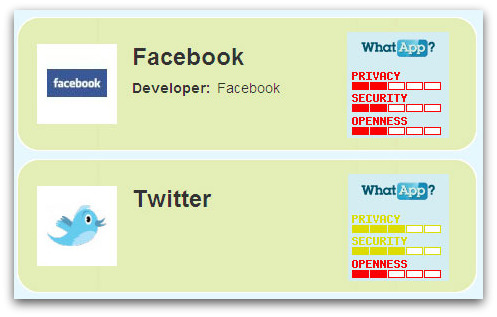 WhatApp, which was co-created by Stanford University Law fellow Ryan Calo, describes itself as "an online resource where experts and other users can assess, discuss, and rate the privacy and security of mobile and Internet-enabled applications. Now in Beta, the website combines traditional consumer reporting and review tools with wikis and news feeds to allow users to make informed choices about the applications they download."
Calo told Forbes that he believed Facebook users are concerned about the amount of information applications can access: "I think people are upset because when you download an app, you don't have any control over what the app developer sees on your profile. There's the perception among users that they don't need to give away so much information to have the apps do the same thing as they are currently doing."
However, I think we would be rash to take WhatApp's scorecard for Facebook at err.. face value. It's important to note that the WhatApp site's goal is primarily to look at specific applications, and that the results publicised by Forbes are extrapolated from those individual application scores to give an overall score for how well Facebook as a whole is faring. (I've been contacted by Oliver Chiang, the author of the Forbes article, who tells me that WhatApp do rate platforms such as Facebook separately from the apps, so it's not an aggregation. Sorry about that).
What isn't clear is how well can we verify Carlo's credentials as an expert, and it's also not shown how many of the site's "verified" experts contributed to the scores that have been published so far. Nevertheless, Facebook won't be best pleased to see it ranked poorly against its competitors.
Facebook security and privacy are very real concerns, of course, and this debate is likely to run and run. Many of us may well have good reason to long for the days of 2006, when Facebook privacy was a much simpler thing:
"No personal information that you submit to Facebook will be available to any user of the Web Site who does not belong to at least one of the groups specified by you in your privacy settings."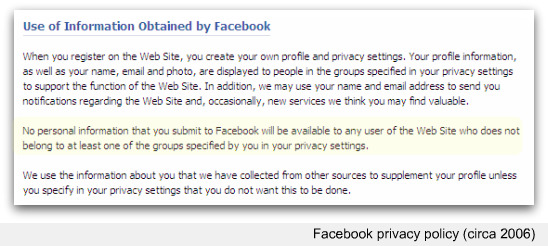 It's very simple – all I want is to have control over who can see my personal information on Facebook.
But it seems that more and more Facebook is preventing me from achieving that seemingly simple aim.
Don't forget, if you are on Facebook and want to keep yourself informed about the latest news from the world of internet security and privacy you could do a lot worse than become a Fan of Sophos on Facebook.