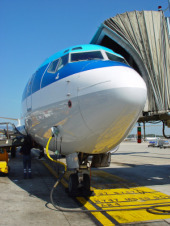 Many of you have been following the ongoing saga of the attempts by almost 600 Sophos staff to get home from a conference that we were holding in Berlin. Many of our sales and marketing staff have been stranded in Europe following the cancellation of flights after the eruption of an Icelandic volcano.
Although many of us managed to get back to the UK via coach, ferries and trains, there are still plenty of our colleagues from further afield who are still stuck on the continent.
Not that that's stopped them working, of course.
For instance, our stranded American salesforce set up a temporary base at our offices in Oberursel, Germany, meaning that they could continue to work even though they were far from their normal desks.
But, hey, never let it be said that Sophos isn't at least imaginative in a crisis..
The news can now be revealed. We've hired a Boeing 737 to help get our staff from America, Australia and Asia Pacific back to their homes. 🙂
Our chartered jet plane just left Portland, Oregon, on its way to Europe. It's bringing a bunch of Dutch people home from the USA. Once it arrives at Vienna airport, the plan is for around 140 Sophos workers to board it and – after a fuel-stop in France – bring them to Boston, and allow onward travellers the opportunity to finally return to their own countries. (Some of our staff had already made it south to Spain or Rome and will leave from there instead of going back to Austria).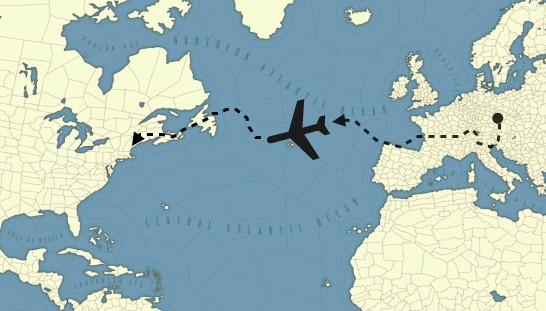 Of course, a gremlin might still get in the works – and we can't be 100% confident that the Sophos plane is going to get our guys and gals home until it's in the air.
But right now we have scores of our staff travelling frantically across Europe to make the rendezvous in Vienna, as the plane is scheduled to leave at 1am CET on Wednesday night/Thursday morning.
I'm sure our adventurers wouldn't mind if some of you crossed your fingers and wished them good luck. Just leave a message on Twitter with the hashtag #sophosairlift if you feel the urge.
There are a lot of people who have worked hard on this plan, and it's not possible to name them all, but thanks must go to Emmanuelle Skala and Chris Doggett, our generals on the ground, as well as Kimberly Truong and Christine Conroy who have been doing a ton of work to organise local logistics around hotels, immigration, manifests, transportation and a thousand other things.
BTW, if you're worried that next time you visit Europe you might be stranded by a volcanic eruption, maybe it's time to consider a career at Sophos?
Update Tuesday, 22:45 CET : Flight BSK 628 has arrived at Newark. It's scheduled to leave for Portugal shortly, and then on to Vienna. It is scheduled to arrive at approximately 1100 CET on Wednesday, 14 hours before Sophos's airlift out of Vienna, giving the crew time to rest.
Update Thursday, 1:00 CET : And they're off! Is this a case of "Goodnight Vienna"?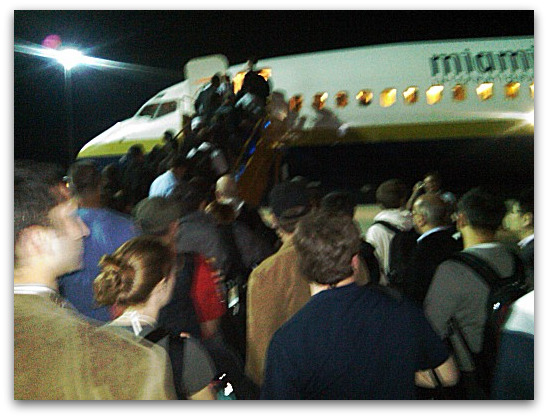 Update Thursday, 1:15 CET : Former guest blogger Mark Stockley has contacted us about a new Sophos product, Sophos Anti-Eyjafjallajokull.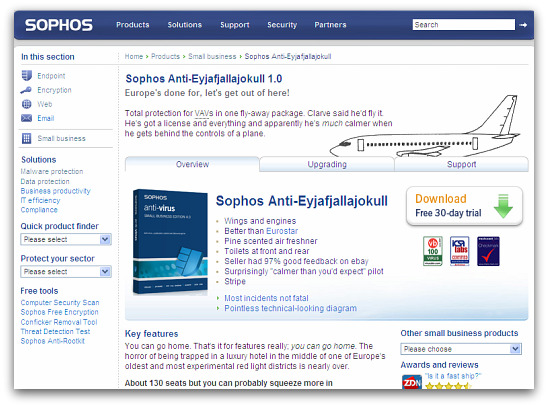 Update Thursday, 1:03 EST : The team are refuelling and recatering in the Azores. Not that they can appreciate the island much – it's pitch dark.
Update Thursday, 6:15 EST : Sophos's 737 (dubbed "Endpoint One") has landed at Halifax, Nova Scotia, their final refuel stop before going on to Boston.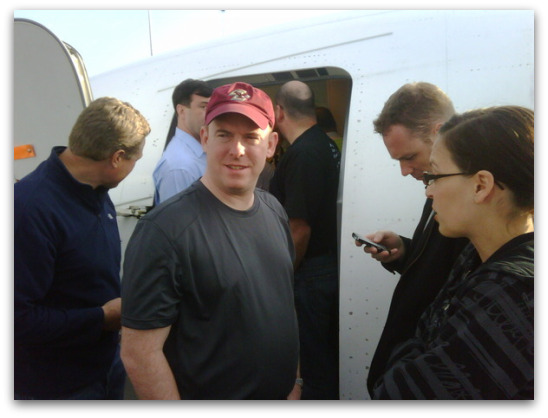 Update Thursday, 9:00 EST : The Sophos Airlift is a success. Our guys have landed in Boston. Rich Baldry was onboard to tweet the news to the world: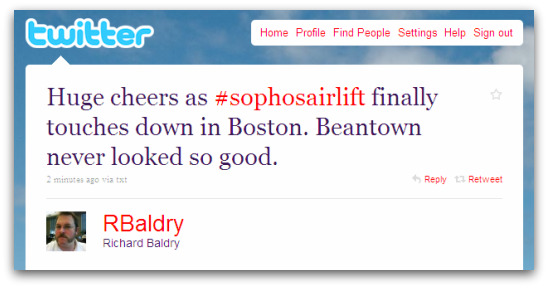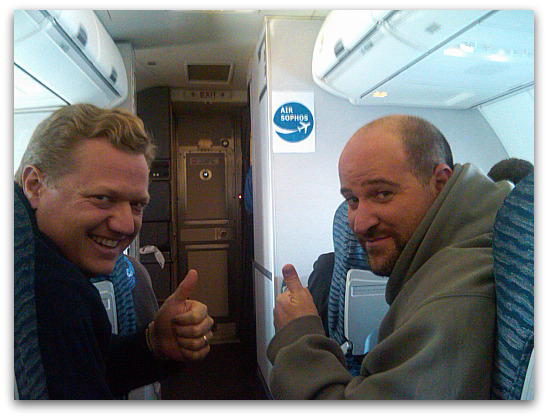 Well done to everyone involved – from those behind the scenes who worked so hard to get our staff home, and for those in the team who have kept their spirits so high throughout this entire experience. Great job!