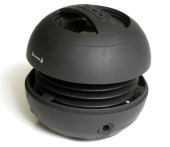 Last week when I travelled to Germany I bought myself a pocket-sized speaker that I could plug into my smartphone to listen to music and podcasts.
The X-Mini II is a great little device, capable of being playing decent-sounding music for up to 11 hours on a single charge. You can use it with your MP3 player, phone, in fact anything which has a 3.5mm speaker output. But what's really great is that the marketroids at Sophos are so impressed with it that they've given me ten of the gadgets to give away to you! Woohoo!
All you need to do is take our survey on cyberwarfare, and if you're lucky you'll be one of the names pulled out of the hat for an X-Mini II.
If you need any more convincing about how cool these pocket speakers are, check out the review of the gadget from The Register, or watch this YouTube video review by a chap with a truly British accent:
So, if you want to show off to your mates about your portable speaker, take our survey and fingers crossed one of our ten mini speakers will be winging its way to you soon.
Good luck! And thanks once again to the marketing department for donating the prizes.