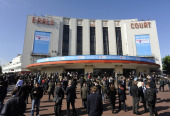 Sophos is attending InfoSecurity Europe in London this week, the UK's largest IT security tradeshow.
Sophos will be raising awareness of security threats, and doing the odd product demo, on our booth smack-dab in the middle (almost) of Earl's Court.
It should be a fun few days, so if you're in the area do drop by and say hi to me, fellow blogger Chet Wisniewski, and a horde of other Sophosites who will be resplendent in their corporate polo shirts.
We'll be giving regular presentations and – as a special treat – opening the bubbly and passing around slices on cake on Wednesday afternoon as it's Sophos's 25th birthday, don't you know?
Aside from booze and birthday cake, the main thing we'll be giving away this year will be a Social Media Security toolkit. It comes in the form of a small pizza box, containing a CD with everything you need to educate your works about social networking threats, a copy of the "Threatsaurus" (a kind-of A-Z of threats), a pen, stickers and something mysteriously titled "The Rough Guide to Sophos" (I haven't seen it yet, and have no idea what that might be).
Hope to see you at the show. And apologies in advance that there's no room for pizza in the box.