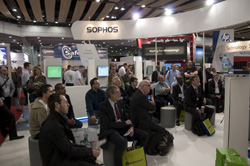 I have been having a lovely time in London attending InfoSec Europe 2010 this week. Our UK marketing group asked me to join Graham Cluley, James Lyne and Chris Pace in presenting thought provoking sessions at our booth.
This afternoon we will be celebrating Sophos's 25th anniversary as a security vendor. In our booth we will be sharing some birthday cake and perhaps a few cocktails as well. That is a long time compared to many other companies in this space, and the best part about it is how many of our original employees are still with us, helping Sophos be even greater.
I had a few minutes to catch up with James Lyne as well on my travels through England. James joined me for Sophos Security Chet Chat episode 7.This week we discussed SEaaS (listen to learn a new acronym!), McAfee's recent QA incident, and some of the stranger places confidential data might be leaking from your organization.
Download and listen to "Sophos Security Chet Chat episode 7 with James Lyne"
If you enjoy this podcast you can download many more via iTunes or directly from our website.