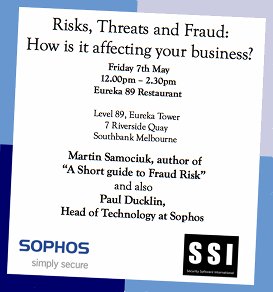 On Friday 07 May 2010, Sophos Australia and Security Software International are jointly hosting a security luncheon more than 285 metres above ground, on the top floor of the Eureka Tower in Melbourne.
Eureka Tower is currently the second-tallest residential building in the world (or fourth-tallest, or fifth-tallest, depending on whom you ask). Ironically, given how vast and unpopulated Australia is, the tallest is in Queensland.
The event will feature two speakers, Martin Samociuk, an expert in the proactive prevention of fraud, and me, Paul Ducklin. According to our marketing department, I am an expert in the prevention of computer security threats.
The event is aimed at anyone who makes or implements corporate security policy for a living, such as CIOs, financial controllers, senior system administrators, auditors and HR chiefs. HR departments are often left out on the periphery of corporate security. But if you want to ensure that your employees are well-informed about fraud and security threats, and that they remain well-informed as the threat landscape changes around them, you ought to involve HR from the outset.
The good news is that we have a few places left, and Melburnian readers of the Duckblog are invited to apply for them. Just email me a scan or a snapshot of your business card and I will pass it on to our marketing department. I can't guarantee you'll be chosen if you do apply, but I can assure you that you won't if you don't!
(Since your business card amounts to a public, or at least a semi-public, statement of basic personal information, I don't feel ill-at-ease asking you to submit a facsimile of it using the public, or at best semi-public, medium of unencrypted email. But more about such matters at the seminar.)
Hope to see you in Melbourne.