David C Kernell, the 22-year-old student who broke into the personal Yahoo email account of former Alaska governor Sarah Palin, has been convicted by a court in Knoxville, Tennessee.
The jury deliberated for four days before finding Kernell, the son of state democratic representative Mike Kernell, guilty of obstruction of justice and unauthorised access to a computer. However, Kernell was acquitted of a separate charge of wire fraud.
Kernell could face up to 20 years in prison for the obstruction of justice conviction – brought about because he deleted evidence from his hard drive – and an additional your for the unauthorised access to Palin's account.
The student broke into Sarah Palin's Yahoo account and posted copies of her emails, addresses of her contacts, and family photos on Wikileaks.
What brought the September 2008 hack to the attention of the world stage, of course, was that at the time Palin was running to be Vice President of the United States. She claimed that the hack "created paralysis" in her campaign team, and Palin's daughter Bristol testified that she was harassed as a result of the security breach.
The potential Vice President's mistake was to choose a dumb (and easy-to-work-out) question as her password reminder. That's a faux pas that many have made in the past, making it easier for hackers to break into systems.
Here's a video I made at the time of the incident, showing how both Paris Hilton and Sarah Palin have been caught out by the trick:
(Enjoy this video? You can check out more on the SophosLabs YouTube channel and subscribe if you like)
We'll have to wait and see what sentence Kernell receives for his hack, but judging by a post Sarah Palin has made to her Facebook page she is pleased with the verdict: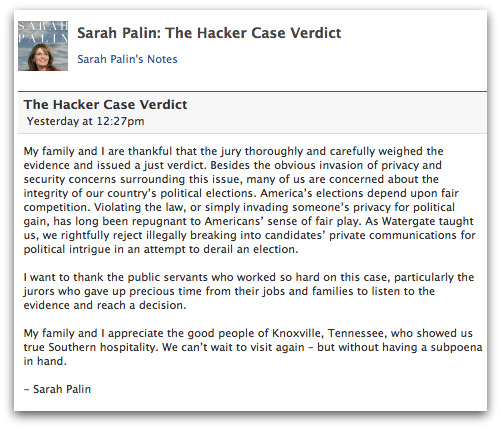 Let's hope that some good comes out of this story – and that others are dissuaded from thinking that hacking into the email accounts of others is acceptable.
(Image of Sarah Palin using her BlackBerry from www.mccainblogette.com.)