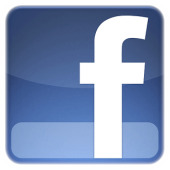 A warning being sent across Facebook is scaring users into believing that their accounts have been hacked.
Here is a typical example of a warning message:
To all of my friends: COPY & PASTE: New problem found.... Hacker in door in our friends list!....We are now listed as friends of ourselves! You need to delete yourself from your friends list to close the door to hackers. To do this ... Go to Account, go to edit friends, there search for your name on the list and click the X to get your name removed.

The problem with this warning is that it's complete poppycock, and causing some users to panic that they could have been hacked.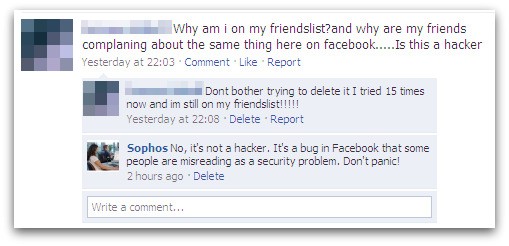 Yes, there is a bug that means that when you search through your Facebook friends list, you show up yourself as one of your friends. And yes, even if you try and "delete" yourself as a friend you'll pop up again when you refresh the webpage.
But this is not evidence that your account has been compromised, and if you forward this warning to your Facebook friends and acquaintances you are only helping to perpetuate the hoax.
We saw a similar hoax spreading across Facebook earlier this year in what we called the "Automation Labs" security scare.
In summary, the "Hacker Door" scare is not something to worry about, and you should always check your facts before forwarding security warnings like this to your friends and colleagues.
However, there are real security issues on Facebook, as with any other social network. Make sure you read our guidelines for better security and privacy on Facebook.
Oh, and you might want to become a Fan of Sophos on Facebook too!