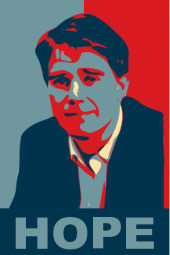 Updated to include poll results.
It's election day in the United Kingdom, and the nation is on tenterhooks to see who wins what looks like being the closest vote in decades.
This morning Mrs Clu-Blog and I – accompanied by our dog – went to the village's small town hall to cast our vote. According to the BBC, "dogs may not yet be entitled to vote but they are allowed to come and watch." The invigilators in our parish told us they weren't supposed to stroke Archie the labradoodle (in case he was being used as a distraction while someone else stuffed 50 votes into the ballot box) but couldn't resist.
Anyroad, all this election-fever got me thinking. Sophos enjoys a party, so why don't we form a political party in time for the next election? Time is of the essence. After all, depending on how close the result is, the next election could be much sooner than the five year term normally allowed.
Only one problem stands in the way of Sophos taking the reigns of power at the next election – we don't have any policies.
And that's where you can help. As a bit of fun on election day, let us help form a policy on how we should deal with cybercriminals by taking part in this poll.
Update: The poll is now closed, and here are the results. Appropriately, considering what's just happened in British politics, there is no outright winner.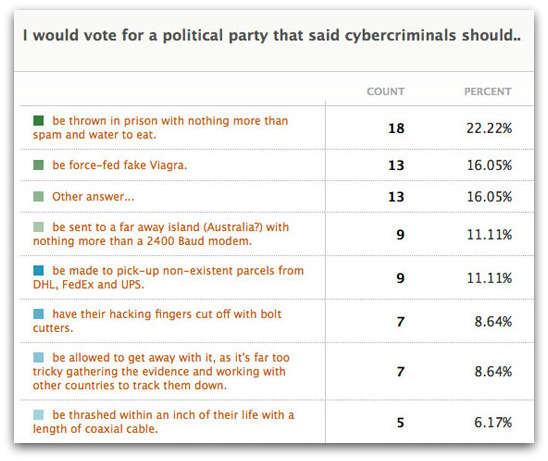 If you're interested, here are some of the imaginative "Other" suggestions that Clu-blog readers conjoured up:
Sort out my mothers PC Problems- every virus from angel/flower/ chain email!
Be buried under approx. 732 tons of paper - the printouts of all messages sent.
be loaded onto cargo ships and set adrift off the coast of Somalia
send them to cleanup victims machines and cough up all the money they've made
be shot and pissed on, but not in that order.
2400bps is too fast. A G93A 120 baud modem would be better!
All of the above except the last one.
Summary Execution
be forced to watch Rick Astley on repeat, for ever
Be switched off...
Conscripted and sent to a war zone