In this guest blog product manager Sunil Choudrie discusses how Sophos is working closely with Citrix to better protect enterprises which allow users to bring their own computers to work. Take it away Sunil..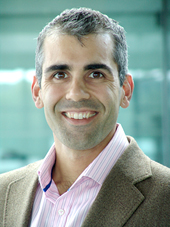 Citrix are hosting their annual event for customers and partners in San Francisco this week. This conference attracts thousands of visitors and Citrix will be showcasing their latest technologies. One of their newer products is Citrix Receiver which is set to revolutionise the way computers are managed within organisations.
How?
Well, Citrix believe the future of computing is all about Bring Your Own Computer (BYOC). You give your staff a budget to buy whatever hardware they want (PC or Mac), and these are connected to your network.
Hang on a second – isn't that a nightmare for the IT department? Well, not if you're using Citrix Receiver; it allows staff to deploy whatever applications they need, whenever they need them (such as the Microsoft office suite or your CRM system).
Citrix use the analogy of cable TV to describe Receiver – it doesn't matter what TV you have, you can still watch your favourite channel, and I think it's a great way to describe it. To this end Citrix has the main platforms covered with variants of Citrix Receiver available for Windows, Mac and a range of mobile devices (iPhone, Android, Windows mobile, Blackberry and even the iPad!).
Of course with all these different machines having access to your corporate network you'll want a way to manage security – this is where Sophos steps in.
The exciting news for us is that Sophos has passed rigorous testing and has been certified as Citrix Ready for Receiver on Windows (currently the only company offering Citrix Ready security software for Receiver according to the Citrix Ready website). This means that you can now deploy Sophos to any computer using Citrix Receiver in a matter of minutes.
Take a look at this short video to learn more.
(Enjoy this video? You can check out more on the SophosLabs YouTube channel and subscribe if you like)
If you're going to be at the show why don't you stop at either the Sophos or Citrix Receiver booths? As well as being able to show Citrix deploying Sophos software we will also show some prototype solutions. We will show ways that we're working with Citrix to make Receiver more secure by ensuring the computer is safe and clean before other applications are deployed.
What about all those other platforms? Don't worry, we'll also be able to demonstrate how Sophos Anti-Virus for Mac can be deployed as well. Look out for Dom and Ellen on stand 604.
Convinced? Well, the good news is that you can try this out right now. Being Citrix Ready means that our existing software can be deployed now. Just check out the instructions in our knowledgebase.