Wow. If you were any doubt as to whether an anti-Facebook sentiment was growing amongst the public – presumably concerned about privacy issues on the social network – check this out.
Google Trends currently has "Delete Facebook account" as the ninth hottest search in the last hour in the USA.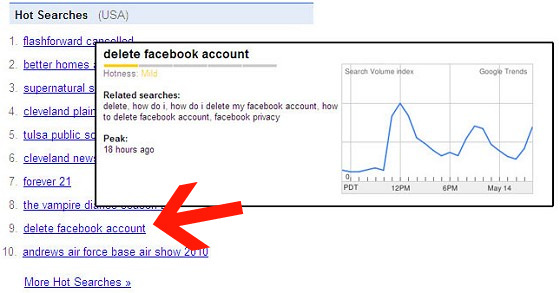 That must mean that a lot of people are investigating how to delete their Facebook account right now.
Facebook's bosses might be wise to rethink some of their policies, and make their users' privacy and safety online their prime responsibility.
And if you really do want to delete your Facebook account – follow this link. (You may wish to read this more indepth article from wikiHow beforehand, which describes important first steps to take)
If you do decide to stay on Facebook, you might want to join the Sophos page on Facebook to ensure you are kept up-to-date with the latest security news.