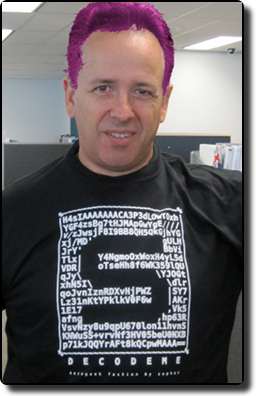 The annual AusCERT conference starts tomorrow evening, Sunday 16 May 2010, on Queensland's Gold Coast.
If you are attending, don't forget to come past the Sophos stand to collect this year's edition of Sophos's sought-after DecoDeme T-shirt fashion range.
In 2008 we had a JavaScript shirt; in 2009 it was Intel machine code; the 2010 fashion statement is a compressed and encoded image file, proudly modelled here by a member of the New Romantic sales team at Sophos.
Best of all – the T-shirt is a puzzle. Solve the puzzle and attend my talk straight after lunch on Tuesday, and you could win a fantastic 1/16th scale remote controlled M41 tank.

Clues to help you solve the puzzle will be given out during the conference from 18:00 on Sunday 16 May until lunchtime on Tuesday 18 May. The clues will appear on this blog and on my Twitter feed (@duckblog) with the hashtag #decodeme.
Don't forget your DecoDeme shirt – the height of conference fashion.