Over the last few days we've been running an online poll asking Facebook users if privacy concerns might make them consider quitting the service.
The votes have now been counted, and reveal the extent of members' concerns regarding the popular social network's privacy settings. Our findings suggest that almost two thirds of Facebook users are considering leaving, with 16% of those polled claiming to have already stopped using Facebook as a result of inadequate control over their data.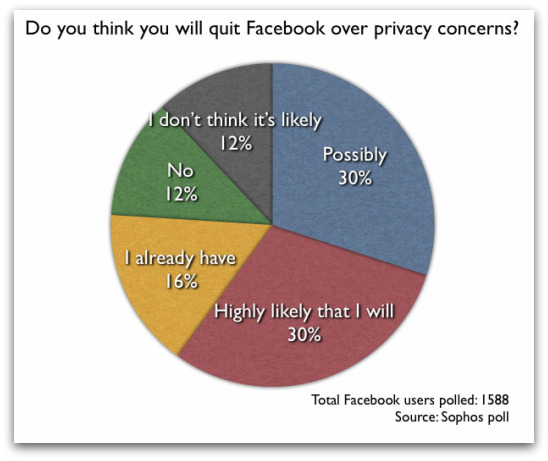 These results come amidst growing criticism that Facebook is facing over changes to the way that the social network can share user data across its site and with other websites. Concerns have centred on the complexity and 'opt-out' approach to sharing member information with wider networks. Media reports suggest that Facebook is planning to announce changes to its privacy settings within the next few days, but it is unclear as to whether any changes will be substantial enough to address user concerns.
What this poll shows is that the majority of the people we polled are fed up with the lack of control that Facebook gives them over their own data. Most still don't know how to set their Facebook privacy options safely, finding the whole system confusing. What's needed is a fundamental shift towards asking users to 'opt-in' to sharing information, rather than to 'opt-out'.
A mass exodus from Facebook seems unlikely, but Facebook members are clearly getting more interested in knowing precisely who can view their data. We've seen "delete Facebook account" becoming a hot search term on Google, and a number of campaigns, including a 'Quit Facebook Day', spring up to raise awareness of the issues.
People use Facebook to share private information and are unlikely to want their holiday snaps or new mobile number accidentally popping up all over the internet. With this survey showing that only 24% of users aren't thinking about quitting, Facebook will need to make sure further changes to the privacy policy are clear, concise and in the interest of making it easier for members to know exactly who has access to whatever they chose to upload.
Now, there will be some who will say that our poll is biased – after all, the people who came across our online poll are likely to already have an active interest in security and privacy issues. But such people are also likely to have the ear of other users, and as privacy and online safety become more key concerns for the public they will look to experts as to whether certain social networks are acting in their best interests or not.
If you do decide to stay on Facebook, you might want to join the Sophos page on Facebook to ensure you are kept up-to-date with the latest security news.
Note: In total 1860 people responded to the poll. We have removed from the statistics above the 272 users who said they were not members of Facebook, but kept the separate 254 who said they had already left because of privacy worries.
Please bear in mind that this poll is not scientific and is provided for information purposes only. Sophos makes no guarantees about the accuracy of the results other than that they reflect the choices of the users who participated.