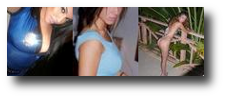 A new Twitter follower whose profile picture is a hot girl is usually a clue that you may be led to a spam. Especially if they are following hundreds of people and don't have a lot of followers. Fortunately this is also a sign that Twitter users are becoming more sophisticated and are not simply following everyone who appears to breathe.
Not everyone's grammar or spelling is perfect. Mine certainly isn't; however, it seems bad spelling has become a tactic for social network spammers to evade detection. Graham blogged about this same spammer network in early May 2010 and I have done some further research.
The spams look like a "word jumble." They take some hot topics, rearrange two letters per word and retweet each other with slight modifications so it is more difficult to search or determine their pattern. Doing an advanced search on patterns they all contained, I spotted a new fake profile approximately every minute. These tweets all had variations of the words "Victoria Secret"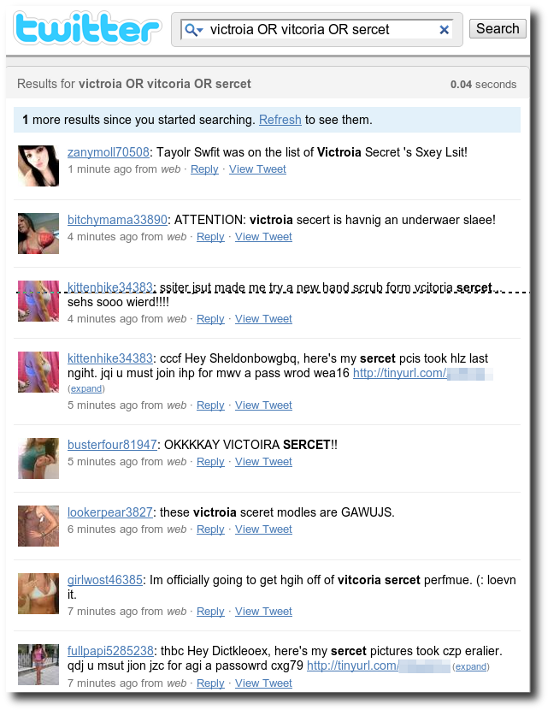 All of these profiles contained shortened URLs from TinyURL.com that lead to the same online sex/dating site referenced in Graham's article. Another commonality is that they all point to the same affiliate ID on this site, perfectmoney.
Referring back to my post "Evolution of spam: Explained" it appears the war on spam is moving away from email and toward less protected communications mechanisms. I want to applaud Twitter, as well as URL shorteners like Bit.ly, for making tremendous headway in the past 12 months. They are taking security seriously and have made several improvements that have eliminated a large percentage of threats to their users. TinyURL.com also appears to respond to abuse reports, but from my experience it does not appear to be automatic or automated.
If services like Twitter and TinyURL.com used anti-spam filtering technology similar to what most of us have at the gateway, these spams could easily be eliminated from social networks. In the meantime, be wary of those hot girls on Twitter. They only want you for your money.