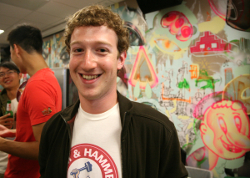 Is anyone else sick of the Facebook saga? I'm ready for them to get their act together so I can move on to other topics, but I can't ignore an issue that impacts the security and privacy of over 300 million users. Today's series of posts covers the topics of promises, malware and spam.
First, Mark Zuckerberg made some very public promises in today's Washington Post. He wrote that Facebook might have moved too fast for its users' liking and is working to resolve people's concerns regarding their privacy. This is great news on the surface, but the subtext concerns me.
Moving too fast? Really? This seems to suggest that the changes made to Facebook are not bad news, but visionary, and the rest of us are not rightfully concerned, but simply behind the times. Facebook will likely roll back some changes and implement an easier-to-manage privacy system to appease us. . . for now.
Mark also wanted to clear the air about Facebook's mission. He said:
Here are the principles under which Facebook operates:
-- You have control over how your information is shared.
-- We do not share your personal information with people or services you don't want.
-- We do not give advertisers access to your personal information.
-- We do not and never will sell any of your information to anyone.
-- We will always keep Facebook a free service for everyone.
This doesn't seem in line with the recent changes. Perhaps all this data leakage was truly just an error in judgement, but Zuckerberg's second point about not sharing your personal information with people or services you don't want to share with is simply untrue. By default, the latest privacy changes share information with Microsoft, Pandora and others without asking. Additionally, many pieces of information that could previously be set to private are now forced to be public. That's not choice and control.
On a positive note, it was excellent to see Mark clear the air over this mess, but as usual a bit shy on details and no actual commitments. I look forward to seeing what he serves up.
Creative Commons image courtesy of Scott Beale / Laughing Squid