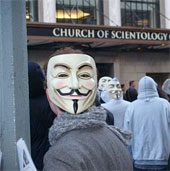 Even if you don't like someone (or a particular organisation) that's not a reason to commit a criminal act.
In January 2008, a distributed denial-of-service attack (DDoS) struck websites websites belonging to the highly controversial Scientology organisation – flooding them with internet traffic, and making them inaccessible to the outside world.
Yesterday, as The Register reports, a second man was jailed for the attack.
20-year-old Brian Thomas Mettenbrink, who had admitted his involvement in the internet assault at a hearing earlier this year, has now been jailed for one year and ordered to pay $20,000 in compensation.
We all know that Scientology is highly controversial, and they are rarely from the headlines (for instance, it's was just reported that a raid on the organisation's offices in Turin revealed a secret cache of dossiers about Scientology's "enemies").
But the anti-Scientology movement does itself a dis-service, and harm to its arguments, if they engage in cyberwarfare.
There's enough crime on the internet as it is, we don't need people taking the law into their own hands.