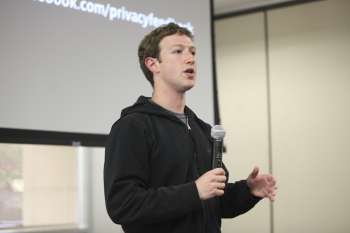 This morning's announcement by Facebook CEO Mark Zuckerberg was much anticipated by the network's estimated 400 million users. Facebook's announcement was live blogged on Cnet.com and covered a lengthy Q&A session.
First and most importantly, Mark showed off a brand new interface for controlling your privacy settings. On a single, easy-to-understand page users can see at a glance who they are sharing which information with. This is a huge improvement and certainly the most important of today's press event.
Second, Facebook is backing off on the idea that you must share your friends list and pages with the public and allowing you more fine-grained controls. Mark seems to think this is a great new feature, but if I am not mistaken this is how it worked prior to December's privacy policy change. Of course, I could be wrong as the labyrinth of policies changes has been long and confusing. I still think this is really good, but I have my doubts about Facebook's reassurances that the policy will remain stable.
Third is a shift in how the Facebook Platform accesses information in people's profiles. There are new options to block all applications and websites, opt-out of Instant Personalization, and choose options in a granular manner. A single choice to opt-out of every Instant Personalization is good, but the problem remains that in order to keep your information from being indexed by the search engines, you will need to block all applications. For many Facebook users that is not really a choice.
My take on all this is really just more of the same. I welcome the simplified controls, but nothing has changed. Users are still defaulted to sharing too much information with the world, privacy itself has not really improved in any meaningful way, and the return of controls that were previously present simply addresses some of the most vocal complaints of their users.
I didn't see any hints of an apology, nor a solid acknowledgment that Facebook went too far. Mark was quoted as saying "there may have been a mistake." May have been? He also said, "We're really going to try not to have another backlash." This seems to be a good strategy.
The point of today's conference? To make motions that Facebook is addressing the community's concerns and to not appear to ignore the outrage that has been all over the headlines. The actual result? A simplified way of getting more of the same.