Some of you will be waking up today to find that Facebook's privacy settings have been updated (don't panic if you're a Facebook user and you don't see the new settings yet – they're taking a while to roll out).
Inevitably there has been much debate about this latest development in the ongoing Facebook privacy saga.
To give Facebook some credit, they do appear to have made the privacy options much simpler. Here's a video of Mark Zuckerberg, Facebook's chief hoodie-wearer, describing what they've done. I think it's really important every Facebook user watches this video.
It's good news that Facebook has responded to user demand by making positive changes to simplify information sharing – it was a spaghetti jungle of options before – but it seems a lot of you still aren't satisfied.
In a poll we ran on this website and on Facebook in the wake of Zuckerberg's announcement we asked if you would prefer to have "opted-in" to sharing your information with others, rather than the current scheme which requires you to "opt-out".
An overwhelming 93% of the 605 people who responded, said they believe that Facebook has got it wrong.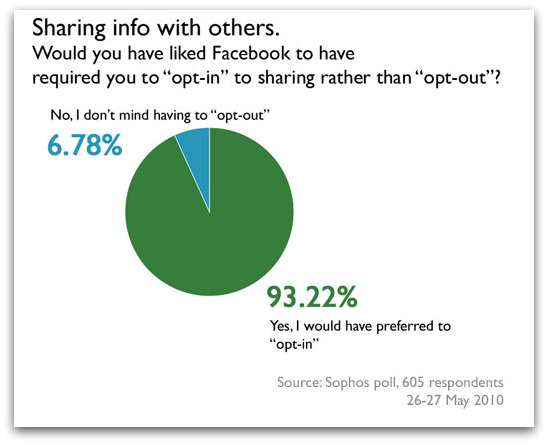 Here are some of the comments people left:
"Opt-out" is a passive-aggressive method of cowards who don't think people will agree to "opt-in".
Our privacy should be first and automatic, let us decide for ourselves what becomes public.
The privacy should always be there FIRST. we should not have to go un-check something we don't want shared. It should start un-checked, so that WE can choose which of OUR things will be shared with others. FACEBOOK should not ASSUME we want EVERYTHING posted to EVERYONE ALL THE TIME.
If sharing is really so attractive, why doesn't Zuckerberg change his site so people have to "opt-in"? After all, if it's really as great as he claims – there shouldn't be any problem getting lots of people to do it.. right?
The sad fact, in my opinion, is that Facebook's privacy decisions are being driven more by economics then the safety of its users. The Facebook privacy debate is going to run and run..
If you're on Facebook, you might want to join the Sophos page and ensure you are kept up-to-date with the latest security news.
Note: Please bear in mind that this poll is not scientific and is provided for information purposes only. The comments expressed on this page are those of a subsection of poll participants, and not necessarily those of Sophos. Sophos makes no guarantees about the accuracy of the results other than that they reflect the choices of the users who participated.