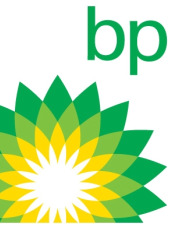 BP has admitted that its official Twitter account was compromised temporarily yesterday by hackers who posted a joke about its attempts to stem the devastating oil leak that has polluted the Gulf of Mexico.
According to a report from Business Insider, an unauthorised posting appeared on the BP America Twitter account at about 8.00am UK time on the 27th May.
The message read:
Terry is now in charge of operation Top Kill, work will recommence after we find a XXL wetsuit. #bpcares #oilspill
Here's an image of what was posted: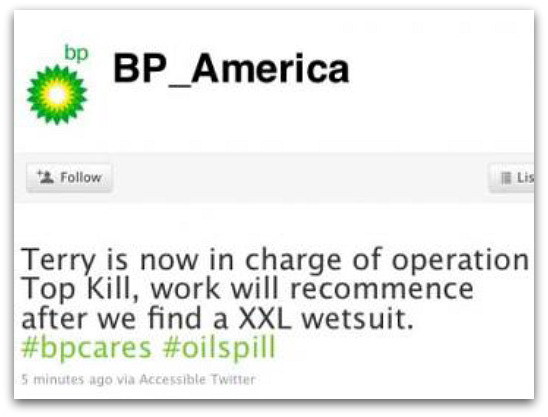 About 30 minutes later, the offending tweet was removed. According to BP spokesman Mark Salt, the @BP_America Twitter account was accessed without authorisation:
"The comment was posted by someone not involved in the response who gained access to our twitter. We have removed the inaccurate posting and made changes to the account to stop this from happening again."
So, you might be wondering, just who is this Terry guy mentioned in the tweet? Well, nobody knows his real identity – but he is frequently referred to on a fake Twitter account called @BPGlobalPR, which has been posting satirical messages pretending to be BP's PR department since May 19th.
Admittedly, some of BPGlobalPR's tweets have been quite amusing (for instance, "The Good news: Mermaids are real. The bad news: They are now extinct" and "Of course, bp cares about the fishing industry as well. Now, all tuna from the gulf coast comes pre-packaged in oil. #you'rewelcome #yum"), but you can't imagine that the real BP public relations department are best pleased.
Now someone has managed to hack into a real BP Twitter account, questions will need to be asked about how well they protected their passwords.
In the past, well known figures such as Lindsay Lohan, British politician Ed Miliband, John C Dvorak, NFL player David Clowney and Britney Spears, as well as organisations such as the New York Times, have had their Twitter accounts broken into by hackers.
It's a pretty embarrassing thing to happen at the best of times – but even worse when you're busy trying to handle an environment (and public relations) disaster.
Remember always to choose a hard-to-guess non-dictionary word as your Twitter password, and to never use the same password on other websites. Furthermore, be on your guard against phishing sites and ensure that your computer is running up-to-date anti-virus software to protect against keylogging spyware which may attempt to steal your information.