SophosLabs global network of spamtraps are now seeing "snow-shoe spam" promoting litigation services against British Petroleum (BP) relating to the Gulf of Mexico Oil Spill disaster. They are targeting anyone who may be negatively affected by the oil spill, and are looking to sue BP.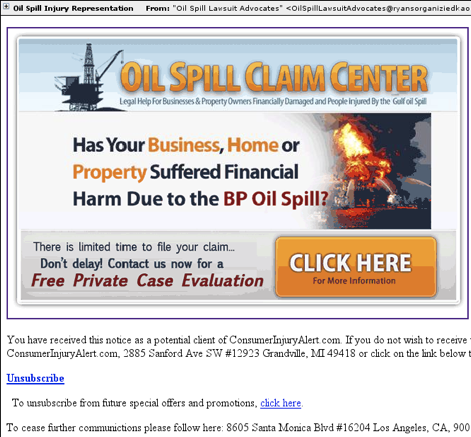 Following the "Call-to-action" links in the message, will take you to a website (consumerinjuryalert.com/oil) describing the types of claims that can be submitted, and who is eligible: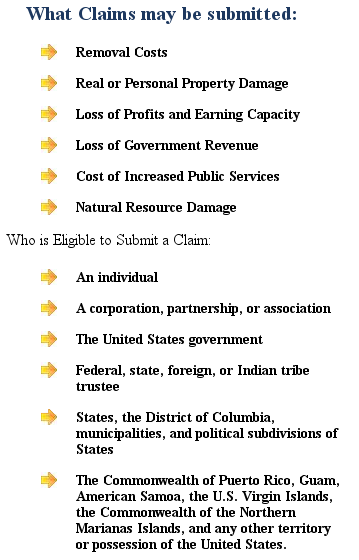 The website gives you the chance for a "Free Case Review" requiring you to submit some personal information, how you were affected by the spill, and if you already have a lawyer or not. Naturally some additional information they ask for is your email address, and have a pre-selected check box stating "By leaving this box checked, I agree to receive future offers and announcements from Consumer Injury Alert and its affiliates and partners.". Who knows if they really honor your choice around this option or not, but definitely hints towards the fact they are keen to add your address to their lists and likely others.
Taking advantage of hot topics like this is quite common for the groups behind "snow shoe spam", here are some previous favorites:
– Taking advantage of the foreclosure market.
– Free iPhones or iPads.
– Micheal Jackson albums.
– Re-Finance your mortgage.
– Timeshares.
– House/Car/Health insurance.
– Money making with Google Adsense.
While submitting info via emails like this may be tempting for those affected by the disaster, the services you will be provided is highly questionable and you will likely be added to yet more spammers lists. A better route would be to just contact your lawyer directly.