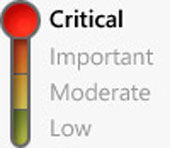 This month Microsoft has released ten vulnerability updates, some of which they have labelled as "critical".
The June updates include:
MS10-033 – Vulnerability in media decompression libraries could allow remote code execution.
MS10-038 – Multiple vulnerabilities in Microsoft Excel which could allow remote code execution.
MS10-041 – Microsoft .NET signed data tampering.
Sophos has not classified any of this month's vulnerabilities higher than a Medium threat level at this time but we are constantly monitoring the situation and this might change.
As always, you can find more information about what we think of the vulnerabilities at our vulnerability analysis page.