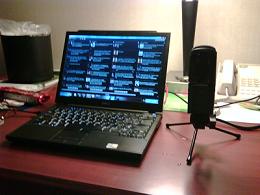 The discipline of delivering a weekly podcast has been difficult, but quite a lot of fun. The strange thing about it is I haven't made the time to post them to the blog, and yet I know many of you only think to listen when I post here.
I could make an excuse and claim I was doing it to determine how many of you subscribe to the podcast via RSS or iTunes, but it would be deceiving because I have been just a bit lazy. So this week I bring to you the last three Sophos Security Chet Chats.
On May 25th Michael Argast and I sat down and talked about the infected marketing swag from IBM at the AusCERT conference and why people are surprised that Google may have grabbed their unencrypted WiFi data.
June 1st Michael was kind enough to join me again to talk about Facebook's new privacy settings (not policy, don't get me started) and have a somewhat lengthy debate about Canada spending a billion dollars on security for the G8 and G20 conferences.
This week Michael and discussed the recent attacks on Facebook and Twitter, Google's decision to abandon Windows and last week's Adobe 0-day exploit for Acrobat, Reader, and Flash.
If you enjoy these podcasts you can download many more via iTunes or directly from our website.