Updated Yesterday, Twitter's COO reported that the site receives 190 million visitors each day, with 65 million Tweets being posted every day.
That's pretty impressive – so well done to Twitter.
However, with rather unfortunate timing the Twitter website appears today to be returning to what was once a familiar sight: the fail-whale.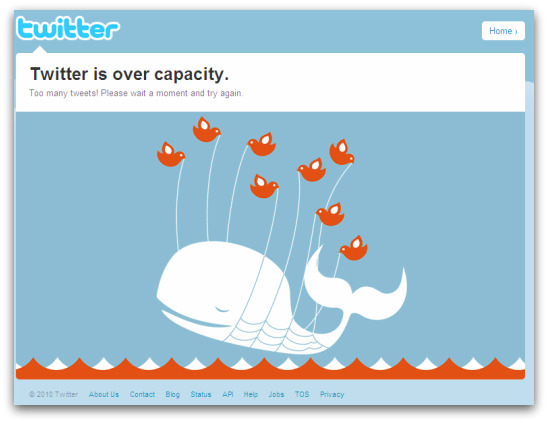 Yes, Twitter certainly seems to be in bad shape today. As far as we can tell, the site is not suffering from the kind of distributed denial-of-service attack it has experienced in the past or from a hacking group hijacking its DNS records, and so we must take at face value the whale's claim that there are simply "too many tweets".
It's certainly frustrating for many folks though – not least those (like us in the anti-virus labs) who use Twitter to share up-to-date information about breaking security threats with the public.
It's a timely reminder, of course, that it's not just website integrity and security that's important for businesses. Website uptime matters too – especially if your entire business is a website and the messages sent via it.
Update Twitter appears to have fixed its problems, and have posted a message about the site's availability problems on their blog.