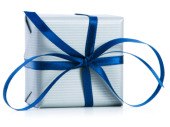 For a few weeks I've been watching hundreds of thousands of users sharing a warning about a Facebook virus that is allegedly spreading disguised as a Farmville gift box.
A typical message reads:
FARMVILLE PLAYERS ETC... THERE IS A WHITE GIFT BOX GOING AROUND WITH A BLUE RIBBON ON IT. IT SAYS THAT SOMEONE HAS SENT YOU A GIFT. THEY DID NOT...IT IS A VIRUS....DO NOT OPEN THIS GIFT.....COPY AND PASTE SO WE CAN PROTECT OUR FRIENDS
I've avoided commenting until now, because I haven't seen any examples of the actual "virus". However, it now seems to me that the sheer number of warning messages about this "threat" (which I haven't seen, and I can't find any reference to on the highly-regarded anti-virus websites belonging to our competitors either) outweighs the danger posed by any such malware.
If the virus exists at all, that is.
But what certainly is spreading virally is the warning – with vast numbers of Facebook users sharing the "warning" with their pals, clogging up their walls and newsfeeds.
So, until I see any evidence to the contrary, I'm going to declare this – just like the Farmville "Three Spring Eggs" scare – a hoax.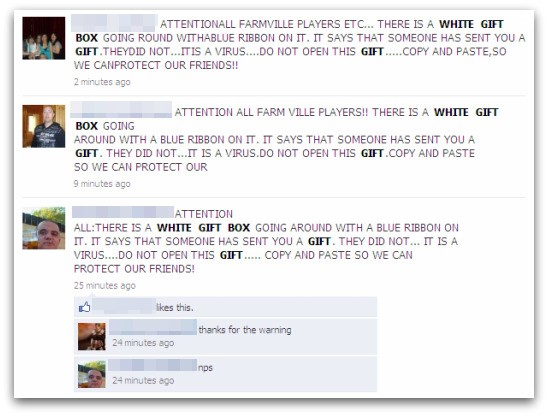 Of course, you should always be careful about clicking on unsolicited links as they could lead you to page containing malicious content, a rogue Facebook page, or a site designed to phish credentials from you. And you should ensure that you have up-to-date security on your computer, checking every link that you click on.
But please don't share virus warnings with your online friends until you have checked them with a credible source (such as an established computer security company). Malware can be killed off fairly easily, but hoaxes like this can live on for months, if not years, because people believe they are "doing the right thing" by sharing the warning with their friends.
If you're a regular user of Facebook, be sure to join the Sophos page on Facebook to be kept informed of the latest security threats.