I saw a couple of messages in our traps today that appear to be related to each other, both starring a young woman in her underwear who – for the purposes of clarity – I will refer to as "Busty Amber".
Using messages that appear to come from Twitter and YouTube, and use their logos and styles in an attempt to trick you that they are genuine, both messages incorporate an image of Busty Amber as she tries to befriend you on YouTube or inform you that you have unread messages waiting for you on Twitter.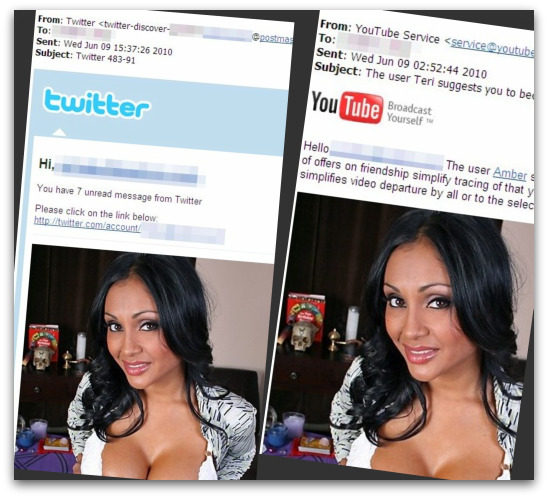 I've err.. cropped the images so you won't have to see everything that Busty Amber has to offer.
The body of the YouTube message reads:
Hello <email address> The user Amber suggests you to become friends on YouTube. Offers and acceptance of offers on friendship simplify tracing of that your friends place in the selected works, add or estimate, and also simplifies video departure by all or to the selected users. To accept or reject this invitation, pass in INBOX
In either campaign, clicking on the links can take your computer – via some redirects – to a fairly typical Canadian Pharmacy website, attempting to sell you medications to improve your performance in the bedroom. You should never buy goods from these kind of websites as, aside from the possible impact such a transaction might have on your finances and medical health, it only encourages them to engage in more illegal practices.
If you receive spam messages like this, don't be fooled by the unexpected inclusion of a rather low budget glamour model. Just delete the message and move on.
Because YouTube and Twitter aren't in the habit of embedding images of Busty Amber into their messages.