Clearly Sophos's Carole Theriault is enjoying the power of guest-blogging. Here she is again, doing a favour for our UK marketing department who have an Apple iPad that they're dying to give away. The floor is yours Carole…

Want the chance to win a free iPad?
I know I'd love one – a couple of weeks ago I went for a weekend away in the Cotswolds and rapidly became addicted (as did everyone else on the trip) to the delights of an iPad game called "Harbor Master". (Check out this review from Cult of Mac if you're not familiar with it).
Of course, you'll need an iPad to challenge my high score of 103. But I have some good news for you – if you take part in our two minute survey on data security you could win a 32GB iPad!
Today, data is king when we talk about security. Companies have auditors rapping at the door, threats sniffing their network and business partners demanding that their sensitive data be kept safer than houses.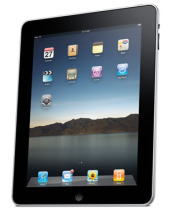 This is a lot of pressure for companies, and we want to know your thoughts on the topic. Even if you think you don't know anything, that is still useful information, because it tell us that the topic of data security is as muddy as a city street puddle.
Our UK team have pulled together a short survey so they can better understand your views. There are six simple multiple choice questions and all answers will remain anonymous. As a thank you, we will give one lucky respondent a shiny new Apple iPad (32GB Wifi edition).
Good luck! And don't worry – Sophos employees aren't allowed to win. Darnit!
[Sorry, the poll is now closed]