A journalist contacted me yesterday to ask my opinions on a possible future security threat – smart dust.
According to the "Life and How We'll Live It" Futurizon report, commissioned by Fujitsu, criminals bent on stealing your data might start resorting to infiltrating your business and home by sprinkling super-smart dust over your computers.
The report explains that the smart dust will allow sensitive data to be intercepted, and even altered, after it is introduced into the workplace through ventilation systems.
Soon, tiny specks of smart dust dropped through ventilation grills on office equipment will allow interception of data before it even gets to an encryption device. Slightly cleverer smart dust could even allow documents to be subtly altered while they are being printed. Detection of such devices might prove difficult.
Sadly, futurologist Ian Pearson – whose web biography says "Anyone can predict stuff, but only a few get it right" – doesn't explain how interception of data via the so-called "smart dust" would work.
I mean, imagine for a second that smart dust really existed.
How would the bad guys get their smart dust back so they could analyse the stolen data? Would they use a hoover? A dust-buster!? If so, how would they separate their smart dust from dumb dust? And would they need to put their particles of smart dust in the right order to make sure that they're not getting their stolen data in the wrong order or mixing it up with someone else's smart dust?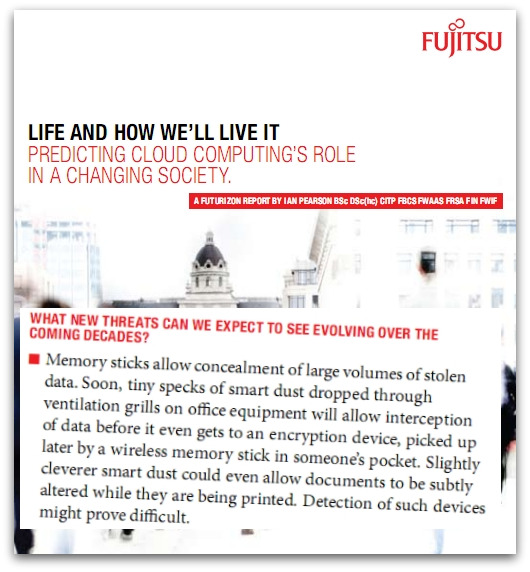 What if someone sneezes? Or has left the fan on? Or leaves a window open? Or has deployed the microscopic smart barrage balloons that Sophos is currently developing to protect your PCs, which will bounce the smart dust away?
Unfortunately, Mr Pearson isn't available to answer any questions about his report, and no-one else at Fujitsu appears prepared to comment about their report, according to The Register.
Hmm.. I don't think I'm going to lose much sleep about this one just yet. But well done to Fujitsu and Mr Pearson for managing to get some media coverage which presents them as terribly imaginative forward-thinkers.