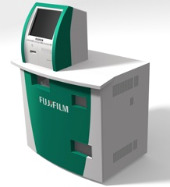 Earlier this month reports began to come in from Australia that some Windows-based Fuji photo kiosks were infected by malware, and spreading worms to unsuspecting shoppers when they inserted their SD cards and memory sticks to print out their digital snaps.
Now it appears that FujiFilm is installing anti-virus protection onto its devices.
And about time too. But it's not the only solution, of course. Another way to prevent these self-service photo kiosks from passing on an infection like a modern-day Typhoid Mary is to ensure that data can only be read from the customers' SD card or USB stick, not written to it.
At least that way the device could become infected – but wouldn't spread the malware further. Clearly not running Windows on the device would also reduce the chances of infection dramatically.
For their part, Fuji's arch-rivals Sony and Kodak weren't slow to point out to say that their photo kiosk machines had never been infected by malware.
My advice to you, faithful reader, is to take security into your own hands. If you use these self-serve kiosks to print your digital photographs you might be wise to use an SD card or USB stick that has a little switch to physically write-protect it before you plug it in.
After all, the only thing you want over-exposed are your holiday snaps, not your computer security.