Today on Facebook many users are spreading a message which claims to link to a picture that caused a mother to be sent to jail.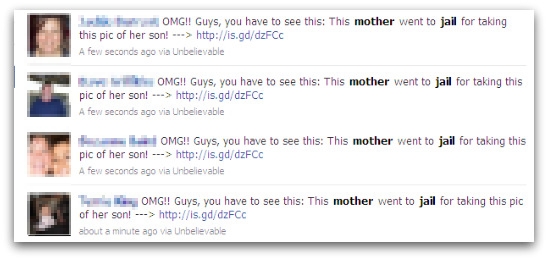 OMG!! Guys, you have to see this: This mother went to jail for taking this pic of her son! ---> http://is.gd/dzFCc
However, if you click on the link you are taken to a Facebook page which tricks you into sharing the link with all of your online friends with the promise of seeing the "OMG!!" picture.
The following video explains in more detail what happens if you make the mistake of clicking on the link:
(Enjoy this video? You can check out more on the SophosLabs YouTube channel and subscribe if you like)
The page is quite insistent, by the way, that you should share the link with your Facebook pals.

As usual, the people behind this promotion are more interested in you sharing their link around (which will help them earn some survey commission and benefit those behind the surveys as they grab your personal information) than actually showing you anything of interest.
I really feel like despairing that the general public will ever learn to avoid dodgy links like this. Far too many people are prepared to endorse and share links on Facebook without properly thinking about what they are doing. In this case they're doing it before they have any clue about what lies behind the page.
If you or your Facebook friends are falling for tricks like this, it's time to get yourself informed of the latest threats. Be sure to join the Sophos page on Facebook to be kept informed of the latest security issues.
In fact it was one of our Facebook fans (thanks Keith!) who first told us about this fast-spreading link.
Update: I'm also seeing messages spreading a very similar scam virally via Facebook claiming that McDonald's might shut down:
OMG!! McDonalds might soon shut down because of this, you have to see this! --> http://is.gd/dzFvo

Clicking on the link to see "why McDonald's might soon shut down" takes you to another Facebook page which promises to make your "jaw drop to the floor".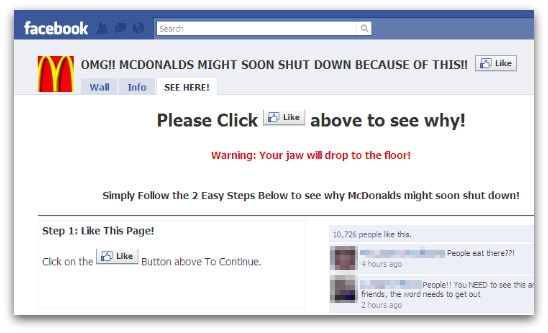 Sophos has informed Facebook's security team of both of these attacks, and we hope they will be shut down soon. But doubtless there will be plenty of others to take their place, so stay on your guard.
Be careful out there folks, and if you have Facebook friends who you believe are acting unsafely invite them to join the Sophos page on Facebook.