Yesterday my colleague Pablo Teijeira, who is based in our Madrid office, logged into Facebook as normal and was confronted with a rather unusual message in place of the usual reminder of whose birthday it was today: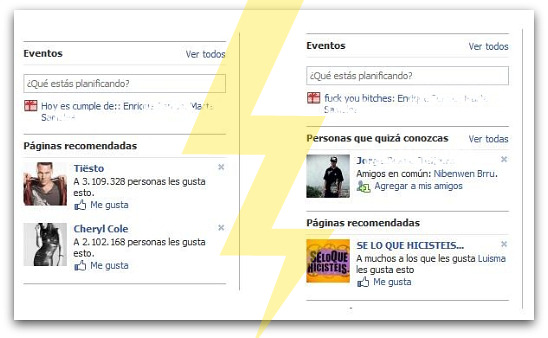 Rather than "Hoy es cumple de" ("Today is the birthday of") the Spanish language version of Facebook was saying "f*ck you bitches". Charming.
Pablo dropped me a line, wondering if I knew if Facebook had been hacked or if there was some other sinister explanation.
Well, the good news is that it wasn't malware and it was more done as a prank than with malicious intent. Facebook has relied upon volunteers to translate its site, and if enough people vote for an incorrect translation it can automatically replace the legitimate wording.
It's all very well harnessing the power of the net to get your website translated, but maybe Facebook should put a few more checks in place before the system is abused again in future – perhaps with more malicious intentions.
By the way, the Turkish translation version of Facebook was also abused in a similar way changing messages such as
Your message could not be sent because the user is offline
to
Your message could not be sent because of your tiny penis
PS. If you're a Spanish reader you might want to read Pablo's Teijeira's blog or follow him on Twitter for your Spanish-language security fix.