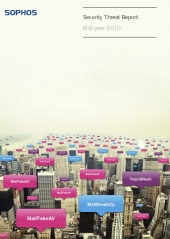 Sophos has today published the mid-year update to its 2010 Security Threat Report, revealing the latest trends and findings from the world of cybercrime.
Read the official press release here.
I'm doing my bit to promote the report's findings, having been transported into the oasis of cool known as the Soho Hotel in London, a short hop and a skip from media companies such as Momentum Films, 20th Century Fox and Paul McCartney's MPL Communications.
Sadly my glamorous career doesn't extend as far as making a cameo performance in a Bruce Willis disaster movie or playing the piccolo on Macca's next album – instead, I'm esconsed in a comfy chair discussing SEO poisoning, fake anti-virus, and state-sponsored cybercrime.
Here are some of the topics we explore in the latest report:
As was mentioned in today's press release about the report, when we look back over the last six months it's clear that state-sponsored cybercrime has become a particularly hot topic.
Things really kicked off in January, when Google announced that it was considering no longer censoring its search engine results in China, after discovering that someone in the country had tried to hack into the Gmail accounts of human rights activists.
It subsequently emerged that some 30 other companies were probed in the attack dubbed "Operation Aurora".
So it's natural that one of the questions we asked our readers was, "Should nations be allowed to spy by hacking and installing malware on the networks of foreign companies?"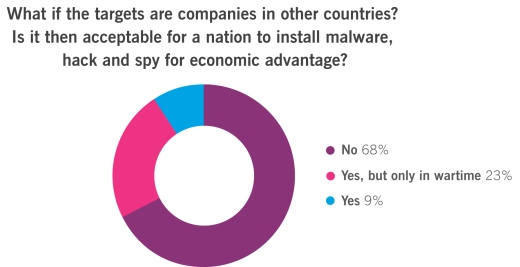 I must admit, I found it surprising how many of our readers though this was fine – even during peacetime.
As we delved deeper into the research, and asked respondents if they thought it was okay to disrupt the economies and communication networks of foreign countries, it became clear to me that we're entering a new era of cybercrime.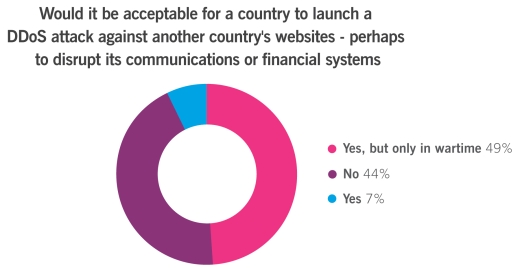 In the early days, virus-writing was a hobbyist activity – largely confined to young men in their back bedrooms with too much time on their hands and not enough Vitamin D. More recently many of us have lived with the scourge of financially-motivated malware, designed to steal information and money from its victims.
The money motive isn't going to disappear anytime soon. But I do believe that more evidence is emerging of people using malware and hacking for economic, political and even military ends.
If you're interested in this, and the other topics discussed in the Sophos Security Threat Report, be sure to download your free copy.
There's also a webcast I have recorded about the Security Threat Report, in partnership with our chums at Dark Reading. (Sorry, you need to register online to view it).